My wife & I departed NC on Saturday after dropping off our toddler with my sister. The local news channels had reported the prior evening that the DOT was projecting traffic delays "up to 75 miles" approaching DC.  Luckily that was not the case and we cruised into Alexandria with no problems. Some good friends we hadn't seen in a few years graciously hosted us for the next few days. Our hostess proved to be an excellent cook and our host worked at Shenandoah Brewing. He and some pals presided over one of the best impromptu beer tastings I've ever enjoyed.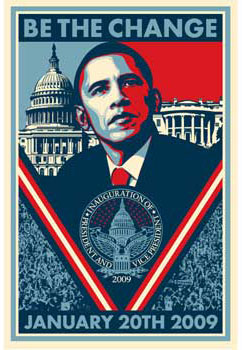 The next morning it was off to work. We had been hired to do official merchandise sales for the Presidential Inauguration Committee. There was a wide variety of items offered featuring the inaugural seal, Obama or Biden or all of the above. Some of the offerings included T shirts, coffee mugs, stickers, paperweights, hats, rock glasses, Champagne glasses, plates, coins, buttons, blankets, posters, coloring books, designer totes, lapel pins and much more.  Check out the full selection here.
Our booth was set up in the swank Omni Shoreham Hotel in downtown DC. There were portraits of the many dignitaries and celebrities that had visited the hotel in the past, including many presidents, The Beatles, Frank Sinatra and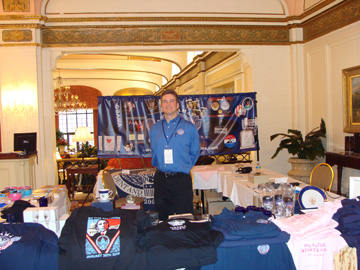 Julia Roberts (portions of the Pelican Brief were filmed there.) There we met great folks of all ages and races from all over the world. Everybody was excited to be in DC for history in the making. It was pleasantly surprising that many foreigners also made the trip, excited at the possibilities of an Obama administration creating positive change for the USA and the world at large. We also received first hand reports of that day's big concert at the Lincoln Memorial and everyone said it was a great time despite the extremely cold temperatures. Our hosts had recorded it so we also got to enjoy the concert when we got in from work, but in a warm cozy environment. We returned to the Omni on Monday for more merchandising and met many more great folks, including hundreds from Indiana who were attending a ball in the ballroom that evening.
Tuesday was the big day! We were scheduled to be at the Convention Center from 2pm to 2am so we opted to skip the super-crowed main event that required one to arrive hours ahead of the 11:30am start time. We arrived at the convention center about 12:30 and had a great hot lunch at the Euromarket cafe with about a dozen members of the Secret Service - who were also happy to be in out of the cold.  Earlier that morning they had helped with security for the main event and would also help secure the Inaugural Balls happening later. We all watched the remainder of the Inaugural proceedings on the cafe's big screen HDTV.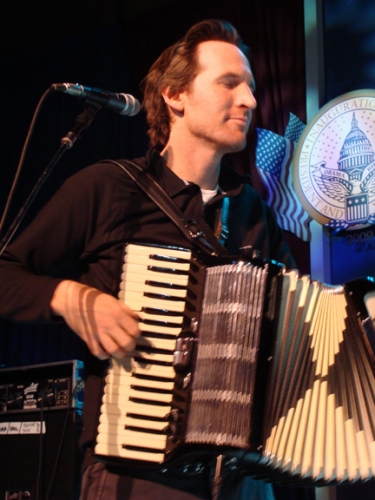 At 2pm we met up with our team and headed into the Convention Center. Security was tight (much like airports), but getting through was quick and easy. We found our hall which would later host the Obama Home States Ball. This ball hosted invited guests from Illinois & Hawaii. Over the next couple of hours we got our area setup and solved all the minor issues that arose. During our setup we were treated to a soundcheck from Jack Johnson and our buddy Zach Gill (of ALO). Gill has been Jack's right hand man for several years providing piano, accordion and harmony vocals. Later that evening they would perform to a packed house.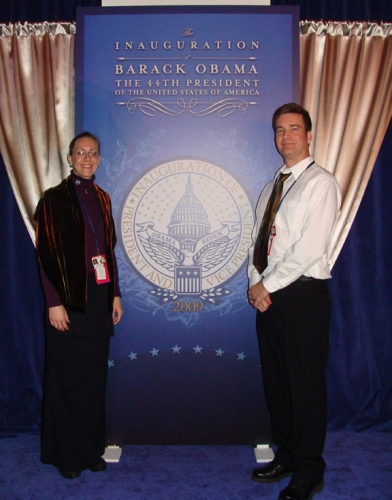 During our setup we paused for this photo opportunity:
After our setup was done I took advantage of my bit of free time and the fact that I had a pass for "ALL BALLS". I checked out the rest of the balls being hosted in the Convention Center (six total). Here's a picture of one: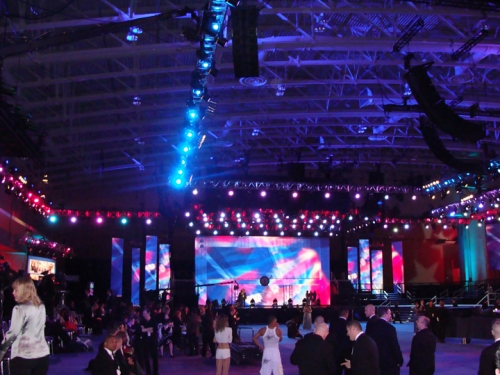 The Neighborhood Ball - some of you may have caught footage from this one on MTV or BET. Performers included Beyonce, Mary J. Blige, Mariah Carey, Faith Hill, Jay-Z, Alicia Keys, Shakira and Stevie Wonder.
After scoping out the rest of the Convention Center and figuring out the most direct route from our ball to the Mid-Atlantic Ball (where the Dead would play later), I headed back to my post.  On the way I snapped this shot of folks waiting to enter their ball.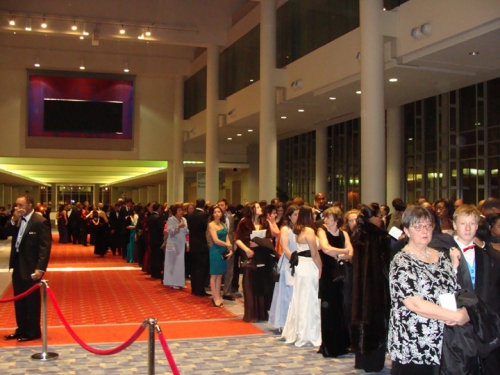 Back at the Obama Home States Ball things were in full swing with great dance music provided by the Don Cagen Orchestra.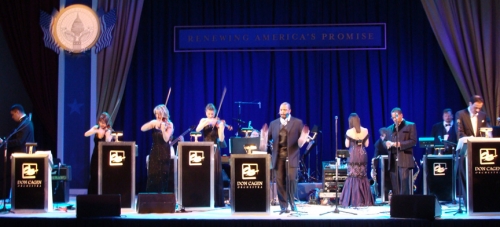 I had gotten a tip from a co-worker that The Dead was to start at 8:30pm.  At that time I headed back to Hall A.  When I arrived Wyclef Jean and his group were performing. I checked in with my co-workers in that hall and they agreed to call me when the Dead took the stage.
I headed back to the Home States Ball and soon after the Honor Guard appeared on stage signaling that something important was about to happen.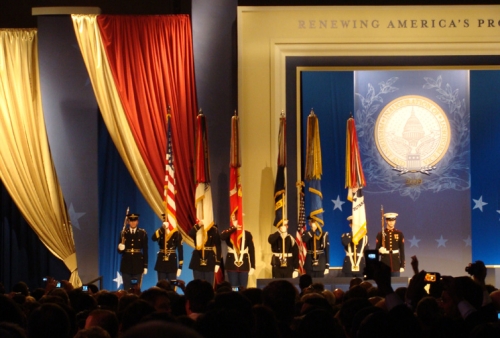 Moments later....  The President of the United States of America!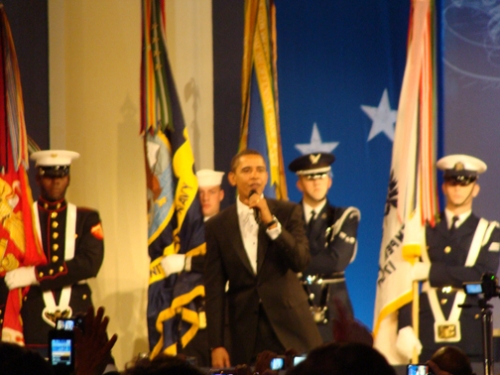 The President speaks (click for video)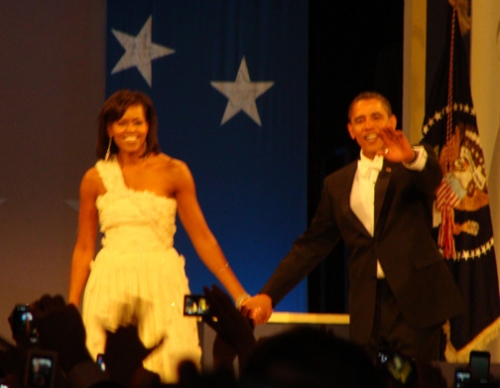 The President with wife and First Lady Michelle Obama.
At around 10:30 I got the call that the Dead were on stage.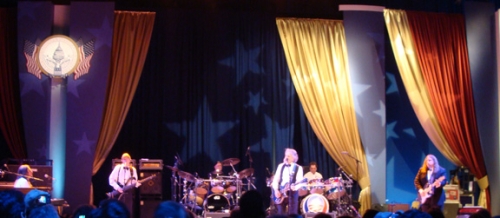 When I arrived they were playing Sugar Magnolia. 
First set:
Dancin' In The Streets>
Uncle John's Band>
Sugar Magnolia
Eyes of the World
Second set:
The Wheel>
Touch of Grey
Box of Rain
Between sets Vice President Joe Biden gave a quick speech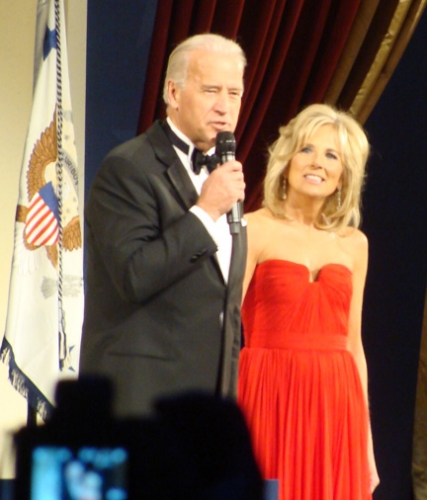 and danced with his wife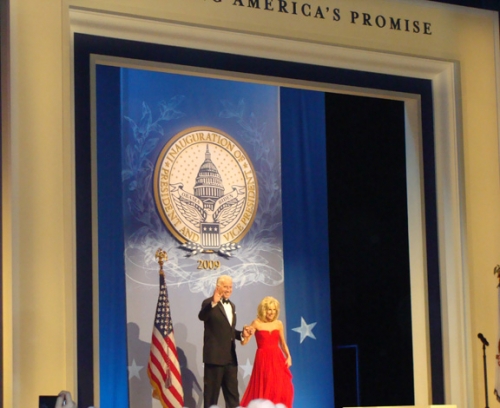 After a long pause
More The Dead!
This was definitely the most unusual Dead show I've ever attended. You couldn't buy tickets to this one. There were no tie dyes, no clouds of pot smoke, no dancers spinning out of control. Only people dressed to the hilt in tuxedos, suits and ballgowns.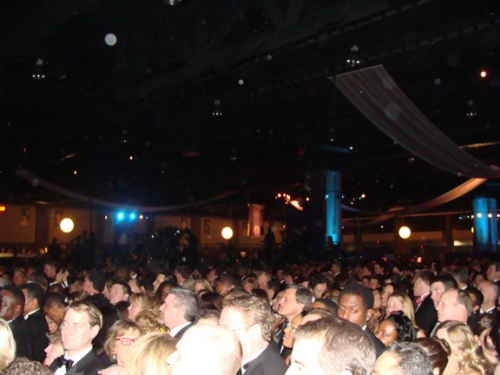 Still, there were hundreds in the crowd singing along! And I even met a taper (TBone). As you can see from the photo above we were all packed in tight which kept any boogieing to a minimum. Shots of Bob Weir and Phil Lesh below. By this point they had shed their jackets but were still looking more dressed up than usual.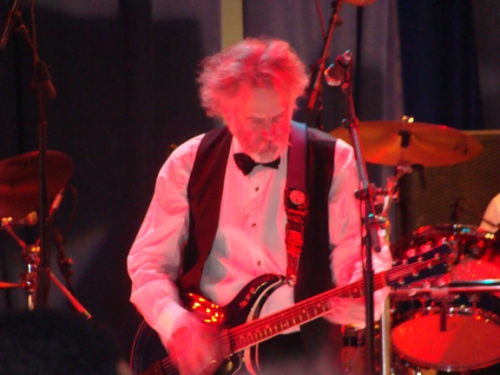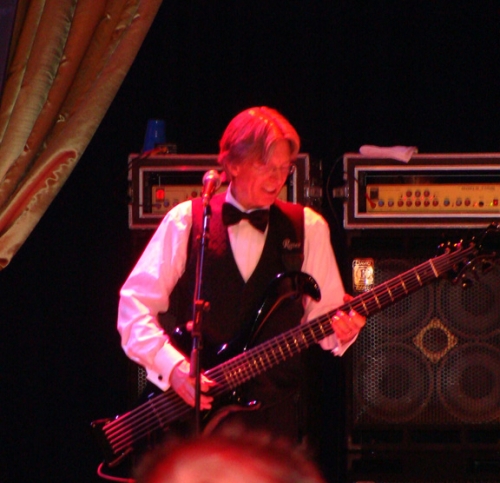 After the second set was done I had to rush back upstairs to check on my crew and get back to work.  Chicago's own Common was on stage laying down the rhymes for the audience.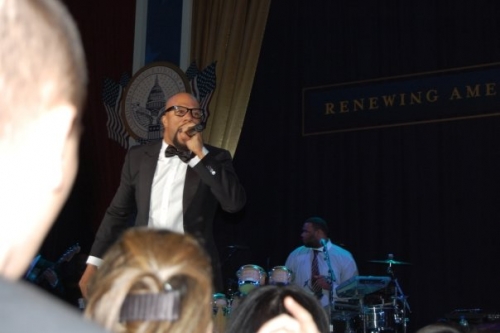 After the ball concluded and we had completed our break-down and finished up with all the details - it was time for more photo opps.  The picture below is our crew on the very stage the Obamas were on earlier.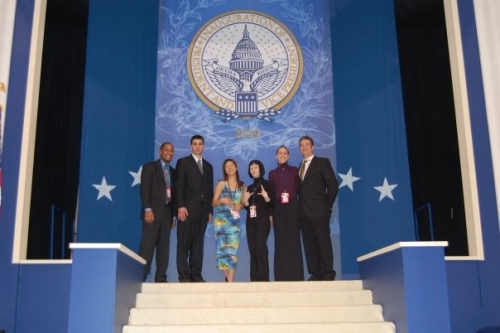 It was time to say our farewells, job well done and boy was that lots of fun! We headed out for our last chance to catch the Metro home. Hoping that we'll get to do it again in 2013!
- by Lee Crumpton
- photos & video by Lee Crumpton, except crew and Common photo Heidi Franz, photo of Lee by Hill Goodwin, photo of Lee & Hill by Colleen Mulcrone
- special thanks to Marcie Vogel Frahm