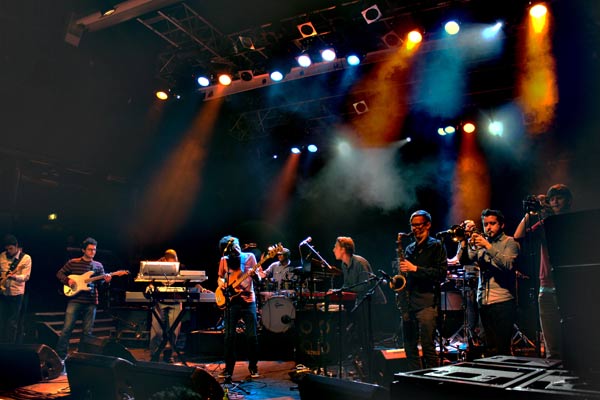 Not only did the Brooklyn band win a Grammy earlier this year, but received a nomination for another at next year's ceremony (Best Pop/Duo Performance for the song "Culcha Vulcha"). After a full year of touring the band will be closing out 2016 with a trio of shows at NYC's Irving Plaza.
The Irving Plaza shows will take place on Friday, December 30, Saturday, December 31, and Sunday, January 1. The New Year's Day show will start very early into the new year. How early? Try 1 a.m. This will be an afterparty for Phish, who are doing a four day NYE run of their own at MSGt. If you're a fan of both bands and plan to be in NYC for New Year's, fear not: the timing works out so that you can make both shows.
Part of the appeal of Snarky Puppy seems to come from how unplaceable they are. In a world where music genres can overlap and still be understood easily (like pop-rock or folk punk), it's something of a rarity to find a band that is nearly unclassifiable. As the New York Times describes them, they are "a barnstorming groove-centric instrumental act with a rabid fan base and a blithely unplaceable style."
No matter how unplaceable that style may be, with a rabid fanbase, it doesn't matter to Snarky Puppy. They released two studio albums in 2016. Their tenth, "Family Dinner - Volume 2" and their eleventh, "Culcha Vulcha." They have also amassed a sizable and diverse number of artists to collaborate with them, including David Crosby, Salif Keita, Charlie Hunter. Their members have also collaborated with the likes of Justin Timberlake, Celine Dion, and Yo-Yo Ma.
After their shows at Irving Plaza, Snarky Puppy will take a month off before embarking on tour dates around the world. From February 10 to 12, they will appear at the Groundup Music Festival in Miami. Their only other scheduled North American tour date is at the Vogue Theatre in Indianapolis on March 17. After that, they will be heading off to tour Australia, Italy, Portugal, the United Kingdom, and more.
2016 has proven to be very rewarding for Snarky Puppy and it will be interesting to see if their fortune continues. Given how far they've come, they should do very well in 2017.
- Ryan Nelson