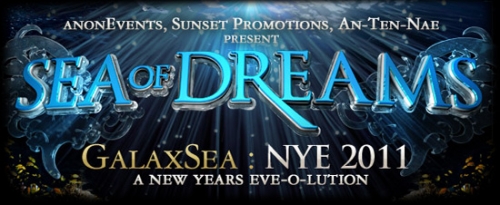 SEA OF DREAMS NYE 2011
GalaxSea - A New Year's Eve-O-Lution
FRIDAY - 12/31/10 NEW YEAR'S EVE
8PM-5AM (Come early.. see it ALL!)
@ SF CONCOURSE EXHIBITION CENTER
635 8th St. San Francisco, CA 94103
HTTP://WWW.SEAOFDREAMSNYE.COM
featuring
LIVE PERFORMANCES by:
THIEVERY CORPORATION
BALKAN BEAT BOX
MODESELEKTOR
BEATS ANTIQUE
THE LUCENT DOSSIER EXPERIENCE
MiMOSA
ELITE FORCE
MEAT KATIE
GAUDI
GOVINDA
MOTION POTION
LowRIDERZ feat. AN-TEN-NAE & LAURA
SYD GRIS
AFROLICIOUS (DJ Set)
DGIIN
DEX STAKKER
DREW DROP
JORO BORO
RUMBLEMUNK
DJ FERAL
:: As well as the usual and legendary Sea of Dreams array of ART, PERFORMANCE, SCULPTURE, CIRCUS, CABARET, MAD DECOR, AMAZING VENDORS, DELICIOUS FOOD, WET DRINKS, YOU in your INCREDIBLE COSTUMES and the MIGHTY DOUBLE-BARRELED MIDNIGHT MIRACLES.. - the whole pretty pretty bang bang!!
JUST ANNOUNCED!! The DOLAB - creators of some of the most mad, beautiful and world-class performance environments in the WORLD will be transforming the West Hall into a dream world beyond belief.
Costumes MORE than Encouraged - Come Dressed as your Dream! Share that Dream with Others!
FACEBOOK EVENT:
http://www.facebook.com/event.php?eid=134298353289205
The initial musical lineup will be the stuff of NYE legend, featuring a who's who of the hottest progressive, international, live, electronic and performing arts acts.
Returning to headline the event are the incredible global-electro-soul masters THIEVERY CORPORATION with a full LIVE band with singers, MC's and horns, New York City ethno-hip hop trailblazers BALKAN BEAT BOX, Berlin techno innovators MODESELEKTOR, and Bay Area gypsy electronic heroes BEATS ANTIQUE. Just added, from Oakland, by way of the world, the ecstatic dance blasts of MIMOSA. And very proud we are to be presenting the world-renowned cirq/cabaret/performance art troupe LUCENT DOSSIER EXPERIENCE in their FIRST-ever San Francisco appearance, doing a complete extended stage show as well as several smaller performances. LowRIDERZ (feat. An-Ten-Nae & Laura) and the North Bay's DGIIN have also been announced for the main stages.
:: OPULENT TEMPLE & OPEL PRODUCTIONS rejoin the Sea of Dreamteam, producing a stage of the hottest electronic dance music, including legendary UK acts ELITE FORCE & MEAT KATIE, as well as local heroes SYD GRIS, MOTION POTION, DEX STAKKER and DREW DROP.
:: The legendary HOOKAHDOME will be back and much bigger this year hosting the world beat sounds of UK superstar GAUDI, Austin Texas' GOVINDA, New York's JORO BORO and the Bay Area's own FERAL.
:: About The Venue: anonEvents will again transform the Concourse Center into a multi-stage, multi-environment undersea fantasyland, complete with multiple sound-systems, cabaret performers, circus performers, aerialists, contortionists, balloon drops, confetti cannons and over 50 massive pieces of inflatable art. After the overwhelming success of Sea of Dreams 2009-2010, the event will be prepared for an even bigger audience with enhanced staffing, VIP hosts, and expert ticketing and box office support provided by Eventbrite and Metrowize. 2010 entry lines were nearly nonexistent due to the expertise of the new team, which will be back intact for a repeat performance.
:: About the Organizers: anonEvents (
www.anonsalon.com
) has been active in the Bay Area for  more than 20 years, conjuring productions that include music, fine art, politics and dance to unite the Bay Area's conscious communities. Since 1998, Sunset Promotions (
www.sunsetpromotions.net
) has successfully produced over 1000 concerts & 20 music festivals including the beloved North Beach Jazz Fest (
www.nbjazzfest.com
) and SF Funk Festival (
www.sffunk.com
). For more than a decade, An-Ten-Nae Presents (
www.an-ten-nae.net
) has produced some of the Bay Area's most cutting edge music events.
Advance Online Tickets Onsale HERE!
Ticket Outlets: WILL BE ANNOUNCED SOON!
http://www.seaofdreamsnye.com/