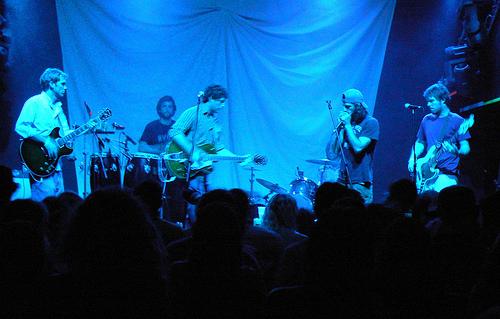 October 30, 2009 -- Jacksonville Beach FL , based Saltwater Grass is currently in pre-production for their upcoming album due out in early 2010. In addition to preparing for Bear Creek Music Festival in Live Oak, FL. (Saturday 5 pm, Music Hall Stage) the band has been busy welcoming a new member, as well as performing for former President Bill Clinton and opening for the Dirty Dozen Brass Band. 
"This album is going to be a definite departure from the first one," said guitarist Ryan Daley. "We've spent a year writing and have really focused on exploring our influences a little more, something I feel we only hinted at on the first album." 
One major change in the SWG sound is the addition of James Nicholson on drums. The former Berkeley student and protege of Atlanta 's Jeff Sipe (Leftover Salmon, Aquarium Rescue Unit) joined the band in September and made his presence known from his first show, opening for the Dirty Dozen Brass Band at Freebird Live in Jacksonville Beach , FL. 
"I'm glad he was able to make his debut at a big show like that, he's added a new dynamic and really marks the next step in the evolution of the band," said vocalist Rich Hansen. 
SWG found themselves in Orlando , FL in early September sharing stage with Bill Clinton when the former president speaking on campus at the University of Central Florida . 
"That was a thrill and a totally unique experience," said bassist Austin Johnston. "Music has taken us a lot of places but there is no way I would have bet on meeting the president because of it." 
Look for Saltwater Grass on the road in early 2010 in New Orleans La. , Atlanta , GA. Charleston , SC. and Asheville , NC . as they tour in support of, as yet untitled second album.
www.myspace.com/saltwatergrassband
www.saltwatergrass.com