Indie instrumental rock builds orchestral melodic passages into bombastic climaxes, laden with crashing cymbals and feedback. The release should be your soundtrack when you're deep in thought. The music is huge, and it's hard not to think big as a result. -
Men's Health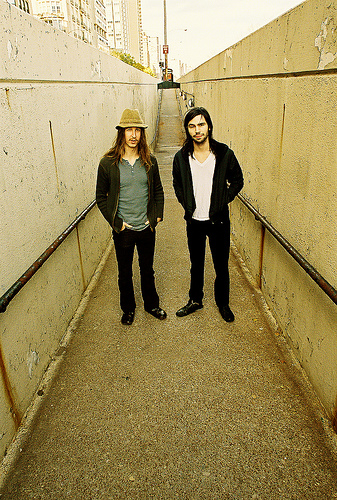 Russian Circles could have made things a lot easier on themselves. They could have followed in the footsteps of 2006's Enter and made a predictable instru-metal album that would cause fans of bands like Pelican and Isis to cream their jeans. Instead, the Chicago act have crafted an extremely diverse album that tempers headband-worthy rock riffs with shimmering guitar lines, setting Russian Circles apart from their peers. -
Alternative Press (4 out of 5 stars)
    Chicago's Russian Circles purvey a kind of nu arena rock that takes all that "tasty" '70s twin-lead-guitar huffapuffa (clean in one channel, riffarama-mama woolly mammoth in the other) and the stretches stuff out, way out, into long-ass tales from the creepy crypt that go through innumerable changes in direction and tone. -
LA Weekly
      Drummer Dave Turncrantz sets a militant tribal groove, while newly recruited bassist Brian Cook (of These Arms Are Snakes) drops anchor with a forbidding, slightly overdriven drone. That lets guitarist Mike Sullivan plot out slow post-rock builds, clicky headphone-panning arpeggios, and thrashing metal chugs overhead. -
Pitchforkmedia.com
    Musically I have no comparison for it, that would be too easy but in ideology they are there with Neurosis, Tool, The Swans, Genghis Tron, Pelican, Jesu, Isis and bands that construct whole albums that need to be heard from first song to last and that allow you enough freedom to post your own emotional identity on what they do. - I
ann Robinson / NoneLouder.com
  The proverbial wind that is always gusting from Chicago never seems to cease but in terms of its most promising musical exports, that breeze proves to be a piercing and chilling gale of heaving guitars and spacey resonance.
   Formed in the Windy City in 2004,
Russian Circles
were born and from the beginning it was their concoction of metal trimmings, minimal jazz primers, and cryptic riffs that hit the scene out of nowhere with the pummeling impact of a rouge comet crashing in from the skies. Their music weaves up an intense and cinematic albeit soothing clobbering that cannot be put into words but instead into forms of audible head trips that defies pigeonholing. "There is so much categorization out there" notes guitarist
Mike Sullivan
. "I think our sound is just too broad to be labeled as any sort of sub-genre".
   Their self titled and self released EP from 2005 sold out shortly after their initial pressings. It wasn't long before their 2006 debut long player, Enter, dropped with a booming impact and saw them sharing the stage with the likes of
Tool, Dalek, Daughters and Pelican
. Aside from their coinciding performance at that year's annual South by Southwest industry showcase, which managed to drop jaws all over the Live Music Capital of the World, Russian Circles have managed to progress forward with a newfangled approach toward their live performances. Their lumbering layers of chiseled post rock and feathery psychedelic infusions have both revved and enticed the listeners into mental orgasms the world over.
    Station, was recorded at Seattle's Studio Litho with producer Matt Bayles (Mastodon, Minus the Bear and Isis.) When asked about the recording process Sullivan cites Bayles as a driving force behind the album's precise synergy. "He's intense in the studio but in a good way". Joining Sullivan and Dave Turncrantz (Drums) on the recording was These Arms are Snakes/ Botch bassist Brian Cook with Morgan Henderson of The Blood Brothers also lending his skills on double bass to the track "Xavii."

If one aspect remained a summit that the band had scaled, it was making sure that the sequencing was spot on to give Station an "album feel" making it suitable for a cohesive listen from beginning to end.

        Russian Circles Live!
May-10 Chicago, IL Subterranean (Record Release Show w/ Call Me Lightning!)

w/ Daughters!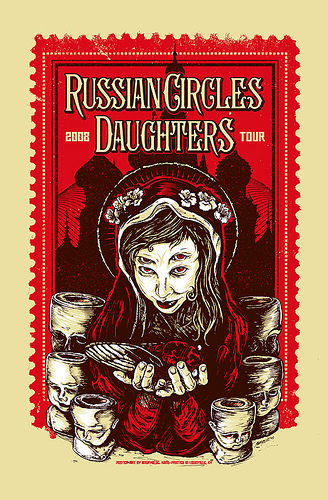 Jun-03 Iowa City IA Picador
Jun-04 St Louis MO Bluebird Theater
Jun-05 Kansas City MO The Riot Room
Jun-06 Denver CO Marquis
Jun-07 Salt Lake City UT Burt's Tiki Lounge
Jun-08 Boise ID Neurolux
Jun-09 Seattle WA Neumos
Jun-10 Portland OR Doug Fir Lounge
Jun-11 Chico CA Cafe Coda
Jun-12 San Francisco CA Slims
Jun-14 Pomona CA The Glasshouse
Jun-15 Los Angeles CA Troubadour
Jun-16 San Diego CA The Casbah
Jun-18 Phoenix AZ The Clubhouse
Jun-20 Austin TX Red 7
Jun-21 Ft Worth TX Lolas
Jun-22 Houston TX Rudyards
Jun-23 Baton Rouge LA Spanish Moon
Jun-24 Birmingham AL Bottle Tree
Jun-25 Atlanta GA The Drunken Unicorn
Jun-26 Chapel Hill NC Local 506
Jun-27 Wilmington DE Harmony Grange
Jun-28 Cambridge MA Middle East Upstairs
Jun-29 Brooklyn NY Music Hall of Williamsburg
Jun-30 Baltimore MD The Ottobar
Jul-01 Buffalo NY Mohawk Place
Jul-02 Detroit MI Magic Stick (*no Daughters )
For more information, visit:
www.myspace.com/russiancircles
www.suicidesqueeze.net
www.homegrownmusic.net