With the summer heat in full effect, party-hearties and boogie-mites roll out stacked to the gills with camping gear, tasty grill-ables and cooler loads of choice beverages to quest for the kind of paradise found only in wide-open fields far from the everyday wear and tear of suburban monotony. Ah yes, life on the festival circuit - for some it's a livelihood, for others it's the ultimate opportunity to weekend warrior your way out of life's constrictions, while soaking up loads of rays and live music. For yours truly, the former applies as I pack my vehicle weekend after weekend, burning up the roadways writing reviews and vending my creative wares in nearly every nook and cranny from here to the Rockies. Civilians often ask which festivals make the most profound impression and for me it's not always the largest or most publicized events that take the top spot. My favorite throw downs are birthed in brains of promoters that hold the value of the overall experience higher than just packing 'em in and padding the pockets. On the music side of things, it's not as much about booking the biggest names as it is about booking the right names while creating an environment where the musicians, the music and the congregation intermingle in the magic of a moment that transcends time and space.  The best fests leave you with a warm feeling of optimism, a subtle reassurance of the possibility that through music, mankind can overcome its differences and unite as brothers on a plane of existence where sounds and souls are the same and the only beat that truly matters comes from the heart.
Rothbury - July 2-5 -Rothbury, MI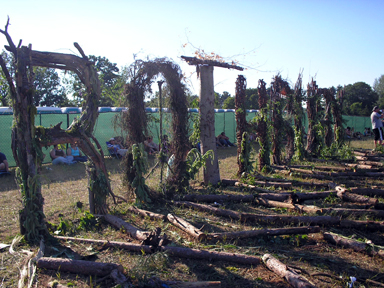 The highly anticipated sophomore return of the self proclaimed "huge party with a cause", plants stakes in the wooded territory of upper Michigan after raising the bar on national-level green festivals nearly a year ago. This year's high water mark for premium festivals to attend with consideration to the level of production, the accessibility to natural scenery and the quality of the overall music experience is without a doubt Rothbury. The inaugural Rothbury indisputably hushed skeptics and adjusted attitudes with its forward minded approach to producing a Utopian shindig that featured the best music on the market, while running as close to a zero-waste event as possible. Boulder, CO based event organizers Madison House teamed up with green event experts The Spitfire Agency and achieved just that, simultaneously rewriting the rulebook on waste handling for large-scale festivals. This year's lineup features the only summer festivasl appearance of The Dead as well as the only 2009 appearance of Madison House's old friends, The String Cheese Incident. Hip hop fans won't want to miss the Quannum All Stars Ft. Lyrics Born, The Mighty Underdogs, Lateef the Truthspeaker, Gift of Gab and Lifesavas. Other must-sees are The Glitch Mob, Soulive and an ultra-exclusive appearance of Break Science Ft. drummer extraordinaire Adam Deitch. Heed my advice as follows folks: buy a ticket for you and the crew, gas up your Veedub bus, drive north without delay (but don't speed), get lost in Sherwood Forrest, boogie till you're blue and don't forget to recycle.
For more info visit:
All Good Music Festival - July 9-12 - Marvin's Mountaintop - Masontown, WV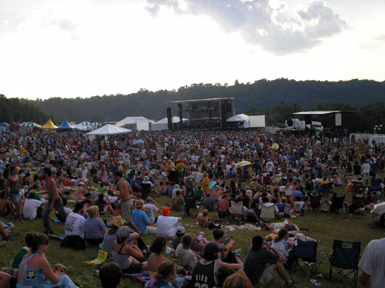 When visionary talent-buyer, Tim Walther first cut ribbons on Marvin's Mountaintop in 2002, the deal was sealed for many monumental All Good's to come. With nearly a decade logged on current the site, Walther's baby has grown from a solid regional party to one of the most infamous mid-summer joints on the east coast.  This year, All Good once again promises to deliver prime, non-stop music cuts from 60+ bands on 4 stages over three and a half days. Solid branding and consistent talent tossed together with a healthy dose of grassroots marketing has proven to be a winning recipe for Walther, decisively cementing All Good's renown amongst the local live music audience and steadily drawing larger audiences. Continually looking ahead, Walther Productions tuned up to accommodate the volume swell by clearing timber and grooming common causeways to streamline the flow of foot traffic. Unfortunately, the festival's popularity has inevitably yielded way to elements that are not so good, particularly petty crime and illicit drug use. In an effort to put the brakes on any bad apples, local law enforcement intent on reducing the amount of DUIs and would-be drug traffickers have responded with heavy patrolling of surrounding areas and checkpoints along all major roads throughout the weekend. Despite an abundance of gate security, nitrous mafia crews have maintained a long-running stranglehold on Shakedown Street and last year, multiple incidents of late night campsite looting were reported in general camping (including the author's camp). Any negativity aside, AG's music lineup is stronger than ever and with a little luck, the ambitious spirit that this festival was founded upon will prevail and its namesake will hold true and be just that... all good.
For more info visit:
Floydfest Revival - July 23-26 - Floyd, VA

Across-The-Way Productions has been hard at the grindstone over the last year in preparation for Floydfest Revival, announcing its beefiest lineup to date. ATW head-honcho Kris Hodges has been steadily honing his production chops on an array of stellar events on the Floydfest site and beyond including the upcoming Floyd Fandango, which couples great music with featured beer and wine selections from local breweries and wine cellars. Floydfest has built a reputation for being a family oriented event that embraces and cultivates world music and culture on a local level but this year Hodges seems to have set his sights on becoming a national level destination showcasing the likes of Blues Traveler, Grace Potter & the Nocturnals, Railroad Earth, Donna the Buffalo, Toubab Krewe, Yard Dogs Road Show, Grupo Fantasma, The Felice Brothers, The Dynamites featuring Charles Walker, EOTO, Panjea with Chris Berry & Michael Kang, Emmitt-Nershi Band and The Lee Boys to name a few.  Other feature worthy of mention include the progressive 'Global Village' area of workshops and demonstrations, over 100 artisans and crafters, food offerings ranging from pulled-pork BBQ to fresh sushi to hand-churned ice cream, a comprehensive healing arts area, and a Children's Universe, featuring stage performances geared toward children, puppetry, workshops, playground equipment and babysitting services. Floyfest Revival promises to be a great adventure for music and nature lovers of all ages. Don't miss out.
For more info visit:
- Words and Imagery By Brian Zickafoose