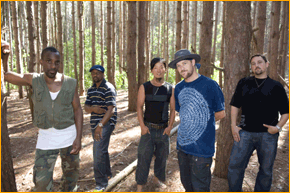 Uniting people through music, Panjea's powerful groove and socially conscious message garnered major success throughout Southern Africa, selling out countless stadiums and over a million records. With upcoming shows in Denver, Boulder and Fort Collins along with a free live CD hosted on their website (www.panjeamusic.com), the group is positioned to do the same stateside.
Leaving his home in California at the age of eighteen, Chris Berry relocated to Southern Africa with his mentor and began studying mbira (thumb piano) and the ngoma drum. It was during that time when he formed Panjea. Rooted deeply in African culture, their revolutionary mix of indigenous music, dance hall and hip-hop has earned the band immeasurable success throughout Zimbabwe and Mozambique. Berry's tireless dedication and unmatched skill led him to become one of the first Westerners to be accepted among the mbira masters as one of their own.
In addition to Chris Berry covering vocals, mbira and djembe, Panjea features Danny Sears on trumpet, Jon Stewart on Sax, Aaron Johnson on drums (brazillian girls), Patrice Blanchard on bass, Michael Kang on mandolin (String Cheese Indident) and Zivanai Masango from Zimbabwae on guitars. Following the edict to make a difference here, Chris Berry & Panjea continue to preach the positive message of hope, justice and peace through infectious cultural rhythms and danceable beats. Contributing to Amnesty International, Flyways and their own Panjea Foundation for Cultural Education, the group in their own right, has become a non-profit organization. Always a band to give back, Panjea has a full length CD compiled from various festivals performed at this summer. The high energy mix of live tracks is available at their new website,
www.panjeamusic.com
.
Featuring virtuosic musicianship, and an incredibly eclectic blend of cultures, this is a show not to be missed. The run of dates starts with an intimate show at the B Side Lounge in Boulder followed by a special Halloween show supporting Leftover Salmon at the Fillmore in Denver. Afterwards, Panjea will announce another intimate late night performance directly after the Fillmore show before wrapping up on November 6th at the Aggie Theatre in Fort Collins.
FALL TOUR DATES:
10/30 - B Side Lounge - Boulder, CO
10/31 - Fillmore - Denver, CO
10/31 - TBD - Denver, CO after Fillmore Show Party from 12:30am to 3:00am
11/06 - Aggie Theatre - Fort Collins, CO
Panjea has a full length CD compiled from various festivals performed at this summer. The high energy mix of live tracks is available in entirety for free at their new website,
WWW.PANJEAMUSIC.COM