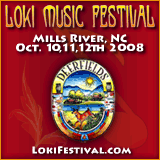 Loki Music Festival
will kick-start the Halloween spirit into high-gear with an eclectic musical line-up of acclaimed national and regional acts, who will get together for a three day Fall celebration at one of the country's most beautiful outdoor venues. Located just 20 minutes south of Asheville, NC and nestled in the Blue Ridge Mountains.
Deerfields
is a 940-acre family-owned tract of unspoiled wilderness offering camping, swimming, and hiking among multiple lakes and lush apple orchards. Mother Nature will be in full autumnal splendor the second weekend of October when this hallowed ground will host musical pioneers of Funk, New Orleans, Rock and Hip Hop.
Loki
, the Norse god of mischief after whom the festival was named, was known as the adept shape-shifter, and in his spirit the event will hold
The First Annual Loki Music Festival Costume Ball
where all attendees are invited to join in and celebrate in creating the magic of this outdoor music adventure. Each year, the promoters plan to have a large percentage of musical lineup based out of New Orleans and the festival theme will always carry the spirit of New Orleans masquerade /voodoo /Halloween. All of the profits made from sales of merchandise from the festival's Art Contests will go to benefit the
Tipitina's Foundation
, whose mission is to support Louisiana's irreplaceable music community and preserve the state's unique musical cultures. Saturday evening's Costume ball is scheduled to start after a brief 45 minute pause in the day's music right before the Peruvian Pedicurists Set. The pause will give everyone a chance to put on their evening costume attire, and get a chance to win special prizes for Best Dressed, Most Unique Costume, and more.
This colorful audience display will be accompanied by festival-wide lavish visual designs from Funktion Forms, as well as a musical lineup that is nothing short of ambitious - and what a treFrom one of the country's most respected indie rock bands
CAKE
, who were just announced as the festival's Mystery Headliner, to Hip-Hop giants
The Roots
, and pioneers
Money B
&
DJ Nustylez
of
Digital Underground
, as well as Reggae legends
Toots & the Maytals
, the country's most-devoted Afrobeat project
Antibalas Afrobeat Orchestra
, east coast favorite globe-trotters
Toubab Krewe
, down-home blues/soul capturers
JJ Grey & Mofro
, the all-star funk power-house
Lettuce
, and the soul of New Orleans' -
Porter Batiste Stoltz
, the genre crossing performances are bound to keep the bodies moving and the heat rising late into the cool and misty 'fool-moon' nights.
While innovative jam-sessions are certainly not a novel idea on the festival circuit, in case of Loki they seem to be more like a rule of thumb rather than the exception. Take for example the
Peruvian Pedicurists
, the one-of-a-kind festival house-band featuring Robert Walter (Greyboy Allstars), George Porter Jr (Meters), Col. Bruce Hampton (Aquarium Rescue Unit), Stoltz + Batiste (Funky Meters), Tim Reynolds (collaborator w/ Dave Matthews), Member of the Lee Boys, and Jeff Sipe (Aquarium Rescue Unit, Trey Anastasio). "This is the first year of the Peruvian arrangement ever," reveals Jack Ballard, festival founder and promoter, "It will be an annual thing at Loki, with the exact lineup changing some every year."
That experimental musical spirit will continue with the scheduled performance by
The Everyone Orchestra
, conducted by
Matt Butler
and will include
Jon Fishman
of Phish on drums,
Marco Benevento
of The Duo on keys, Kora player
Justin Perkins
and percussionist
Luke Quaranta
from Toubab Krewe, steel pan player
Jonathan Scales
, swamp music guitarist
Papa Mali
and members of the
Barrel House Mamas
rounding out the line up with a powerhouse vocal section.
But arguably the most dynamic of all sets may be the slated performance by the super-group that is to make their live debut at Loki,
The Big Ol' Nasty Getdown
featuring
George Clinton
. Started as a studio project boasting 35 musicians from
Yo Mama's Big Old Booty Band
, legendary
P-Funk
,
Dumpstaphunk
,
Derek Trucks Band
,
Dirty Dozen Brass Band
,
Galactic
,
The Lee Boys
,
Laura Reed and Deep Pocket
(to name a few), this ensemble is sure to spice-up the festival's opening night with their
first live performance ever
- not to be missed!
And if that leaves anything to be desired, the complete roster is sure to satisfy any music lover's taste including performances by
Jeff Sipe Project
,
Acoustic Syndicate
,
Robert Walter Trio
w/ Special Guest,
Tim Reynolds & TR3
,
The Lee Boys
,
Col. Bruce Hampton & The Quark Alliance
,
Bonerama
,
Papa Mali
, a special collaborative set with
Josh Phillips Folk Festival
and
Strut
,
Donna Jean and the Tricksters
,
Shane Pruitt Band
,
Grogus
,
DJ Equal & Friends
,
Sci Fi
,
The Hackensaw Boys
,
Turbo Pro Project
,
Woody Wood and Hollywood
,
Larry Keel and Natural Bridge
,
Groovesect
,
Project Percolator
,
Suenalo
,
Trainwrecks
,
Dave Desmelik Band
, and more!
Tickets for the event are on sale now; only 4,500 tickets will be sold! The promoters have reduced the total number of normally available tickets at this venue in order to allow every festival patron more space and opportunity to enjoy the intimate nature of Deerfields. Early Bird tickets are now sold out, but regularly priced three day adult passes are still available and can be purchased online for $145.50 per person. All tickets include Tent camping. VIP passes are almost sold out and include access to VIP lounge, special DJ sets, complementary beverages, food, massage, upgraded camping amenities and usual perks, and FREE shuttle service from Asheville and the Airport! VIP Packages start at $270 per patron. Kids 12 and under admitted free of charge when accompanied by a paying adult, and promoters are taking extra effort to make the festival family-friendly. Loki will have a first class
Children's World
with plans for many organized activities, haunted hayrides, pumpkin carving, and music aimed directly at the little ones! Family Car passes are available to those traveling with children under 10 years of age for $35/vehicle, and must be purchased online at
www.lokimusicfestival.com
.
***
"If I can help bring families from around the southeast and provide them with a safe
and beautiful event in which they can show their children the value of all forms
of art and community, then I will be fulfilling my professional dreams."
~ Jack Ballard, Festival Founder
***
Media interested in attending the event should complete the online media registration form:
http://lokimedia.creality.info