Our very special annual event will have a number of impeccable guests to help us celebrate our 10 year anniversary of this amazing event!!!
If you have not come out to Nelson Ledges Quarry Park yet, this is the show to see!  This is a beautiful festival site with so much to see and do that you may experience sleep deprivation!    The campground is 250 acres of forest, meadow, rock formation and water.  There are two fishing lakes besides the pristine swimming quarry.  You may also find many waterfowl, turtles, frogs, nonpoisonous snakes and other fresh water life.  The forests consist of a variety of trees, wildflowers, mushrooms and an assortment of plant life.  There are many animals in the park, such as squirrels, opossums, raccoons, wild turkeys, pheasants, woodpeckers, and song birds.

Swim in the quarry's fresh waters, or try scuba diving if you are so inclined.  Dive off the cliff for an exhilarating splash!  Take a nature walk through the woods or see the amazing rock shelves here or at the state park next door, which has caves, caverns and great rock formations.  We have volleyball and basketball courts, a new playground for the kids and a gorgeous beach to lounge on and soak up some rays. 
You may want to hang out at the stage area so you don't miss any music!  I have to suggest bringing a camera, to capture some of the exciting times you will have!   Enjoy any kind of food you like from shrimp to funnel cakes and mideastern cuisine to full vegan offerings!


Oh, you want to know what bands are playing? 

      Five days music & 3 more legendary nights with Dark Star Orchestra & friends playing Friday, Saturday & Sunday evening!
      Back for his 6th Gratefulfest in a row, special guest KellerWilliams! 
      Steve Kimock & Melvin Seals bring you Crazy Engine-Off the HOOK!
      We are pleased to have returning stars:  The New Riders of the Purple Sage, David Gans, Donna Jean Godchaux & Band w/Jeff Mattson, BoomBox, and Melvin Seals with JGB! 
      Other guests include:  Mark Karan & Jemimah Puddleduck; Reed Thomas Lawrence, Roots A' Risin'; DJ Harry; The Ghost Riders; The Max Allen Band, The Recipe, The Goldmine Pickers, Bawn in the Bash, The Flyin Jays, The WoodBox Gang  & Red Hot Trio .  Also featured are the Ekoostik Hookah side projects such as:  The Spikedrivers, Screamin Peach, Katz Jammers, and the Mullins Band.  \Plus, as always  Fireworks! Clowns, magicians, skydivers, the Ohio Burn Unit, great food & vendors and the best of friends!
      See all details, band times, rules and info at www.nlqp.com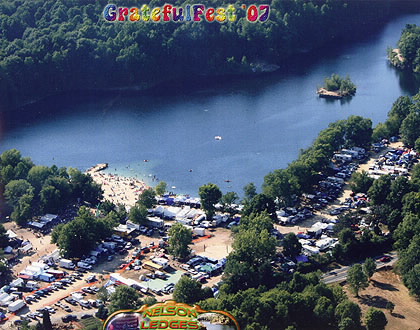 The most beautiful and unique place to experience an intimate outdoor show? 
You betcha...