For the first time ever, legendary guitarist Jimmy Herring is hitting the road under his own name, with a hand-picked ensemble of all-star musicians in support. Pioneering a daring hybrid which crosses rock energy with the sophistication and improvisational fire of jazz, Herring's dynamic, exploratory guitar playing has been a key component of such renowned groups as the Aquarium Rescue Unit, Jazz is Dead, Project Z, and, most recently, Widespread Panic - with whom Herring plays lead guitar to this day. Much esteemed by his fellow musicians, Herring has also been called upon for stints with Phil Lesh and Friends, the Allman Brothers, and the Dead.
2009 marks the formation of the Jimmy Herring Band, featuring Herring on guitar, drummer extraordinaire Jeff Sipe (Aquarium Rescue Unit, Jazz is Dead, Shawn Lane), prolific jazz maverick Greg Osby on saxophone, multifaceted keyboardist Scott Kinsey (Tribal Tech), and musical chameleon Oteil Burbridge (spring tour only) on bass (Allman Brothers, Aquarium Rescue Unit).    
The Summer Tour will feature world renowned bassist Matthew Garrison  (John McLaughlin, Herbie Hancock, Pat Metheny).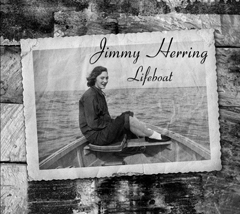 The Jimmy Herring Band will be performing a wide range of material, including compositions from Herring's long-awaited and much-acclaimed 2008 solo debut "Lifeboat."  In addition, there will be some cover tunes from various influential records from the 60's and 70's- and select favorites from the catalogues of the individual band members. Herring is understandably excited about the prospect of performing this music with this lineup over an extended period of time. "It's a shot of adrenaline to get to play with musicians who are pushing the envelope and breaking down the walls that exist between genres of music. Each of these musicians inspires with every note they play."
"Lifeboat" is the debut solo album from Jimmy Herring released on Abstract Logix Music.
Spring Tour Dates
4/24/09: Handlebar, Greenville, SC     
4/25/09: Melting Point,Athens, GA    
4/26/09: Trustees Theatre,Savannah, GA
4/28/09: Cox Capital Theatre,Macon, GA    
4/29/09: Pourhouse, Charleston,SC    
4/30/09: Pourhouse, Charleston,SC    
5/1/2009:Visulite, Charlotte,NC    
5/2/2009:Visulite,Charlotte,NC    
5/3/2009:Lincoln Theatre,Raleigh,NC
5/5/2009:Rhythm and Brews,Chattanooga, TN    
5/6/2009:Mercy Lounge,Nashville, TN    
5/7/2009:Variety Playhouse,Atlanta, GA    
5/8/2009:Soul Kitchen,Mobile, AL    
5/9/2009:Crossroads,Huntsville, AL    
5/10/2009:Workplay,Birmingham, AL    

CLICK HERE to win a pair of tickets to the show of your choice!  Winner to be selected on 4/20.