Inaugural Mindspring Music Fest kicks off In St. Augustine, Fl - April 16th (Now Two Nights)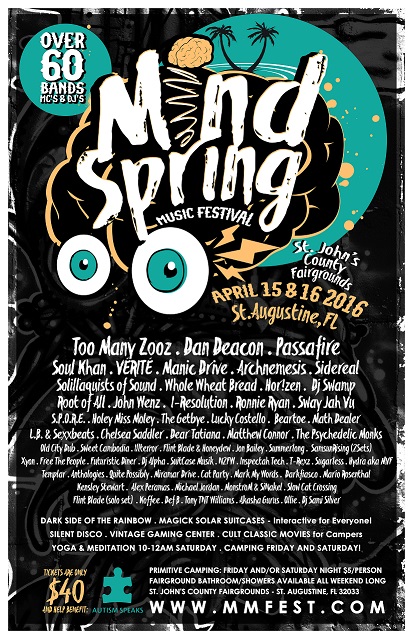 Join us on Friday, April 15th, and Saturday, April 16th, for the inaugural MindSpring Music Festival at the St. Johns County Fairgrounds in St. Augustine, FL! Advance tickets are now available for only $40 (www.mmfest.com) or $50 at the gate. *A portion of all ticket proceeds benefit Autism Speaks.
MindSpring is an independent North Florida music festival in its first year featuring over 50 live bands and DJs spanning the full spectrum of sonic stylings. From Rock to Reggae, Funk to Punk, Hip-Hop to Jamtronica, Americana, EMD, and more... MindSpring was curated with the intention of presenting a unique and diverse line-up that has something for everyones musical tastes and preferences but at the same time strives to expose attendees to new and exciting artists and sounds.
While the majority of MindSpring's live music offering is being presented on Saturday, April 16th, on-site camping will be available on both Friday and Saturday nights where campers can take advantage of an additional night of live music programming, a late night silent disco, vintage gaming center, cult classic movie theater, morning yoga classes, and more.
Visit our website for more information and tickets
FULL ARTIST LINE-UP
Dan Deacon // Too Many Zooz // Passafire // Soul Khan // VERITE // Manic Drive // Archnemesis //
Solilaquists Of Sound // Whole Wheat Bread // Hor!zen // DJ Swamp // Root of All // John Wenz // I-
Resolution // Ronnie Ryan // Sway Jah Vu // S.P.O.R.E // Holey Miss Moley // The Getbye // Lucky
Costello // Beartoe // Math Dealer // L.B. & Sexxbeats // Chelsea Saddler // Dear Tatiana // Matthew
Connor // The Psychedelic Monks // Old City Dub // Sweet Cambodia // Illterror // Flint Blade &
Honeydew // Jon Bailey // Summerlong // SamsunRising // Xyon // Free The People // Futuristic
Diner // DJ Alpha // Suitcase Musik // N2FW // Inspectah Tech // T-Rexz // Sugarless // Hydra a.k.a.
MVF //Templar // Anthologies // Quite Possibly // Miramar Dr. // Cat Party // Mark My Words //
Darkfiasco // Mario Rosenthal // Kensley Stewart // Alex Peramas // Michael Jordan // Monstrom &
SiNakel // SLOW Cat Crossing // Flint Blade (solo set) // Koffee // Def B // Tony TNT Williams // Akasha
Gurus // Ollie // DJ Sammie Silver