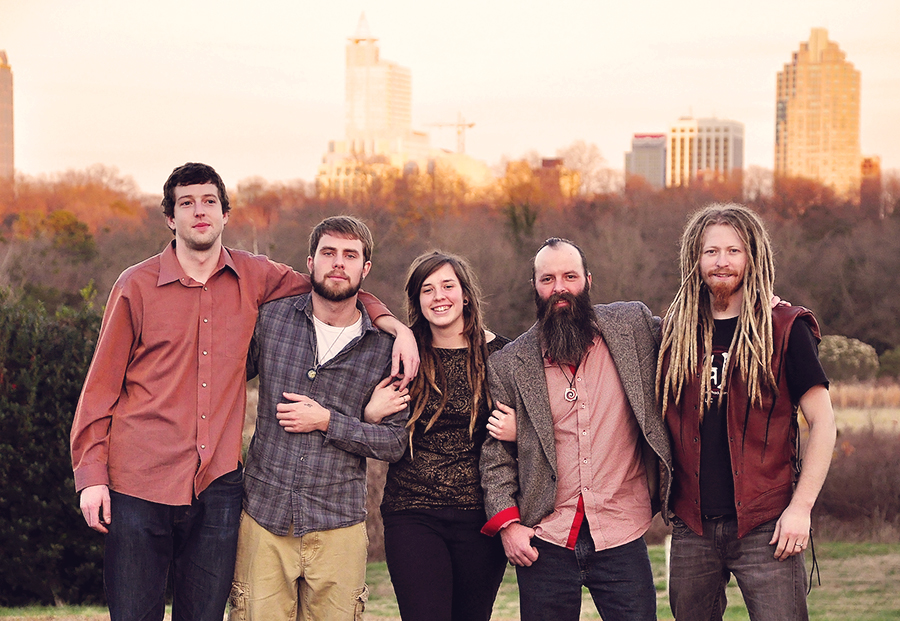 Urban Soil has been a band that we have gotten to know over the past couple of years.  They have been playing NC festivals & local Raleigh clubs until recently when they started expanding their touring markets.  There have been some changes within the band that have made them stronger & tighter each time, though we have been most impressed with the recent lineup of musicians that have come together to form a solid sound.  Front-woman Sarah Reinke brings her old-soul vocals to the stage and studio with passionate style. Rounding out her talents on guitar and washboard, Reinke pulls you in instantly. Guitarist and vocalist, Eric Chesson delivers forceful and driving components with every lick, and offers steadfast vocals. Greg Meckley's skillful violin and mandolin playing blends tight layers and bright sounds that solidify the band smoothly against driving guitars. Holding down the rhythm section, Gabe Fawcett and Ben Hunter provide a concrete foundation on drums and bass respectively.
Hailing from the streets of downtown Raleigh, North Carolina, Urban Soil weaves Americana, rock and soul into their explosive live shows and tightly polished albums. Last year, Urban Soil found themselves self-releasing their debut studio CD "Dig Deeper" with a very quick turnaround to release their first live album, "Live from the Deepwoods" just a couple of months later.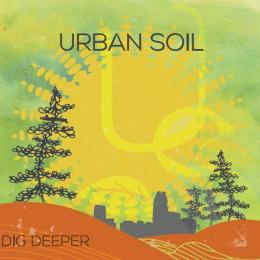 (Click the image to purchase)

Urban Soil's complex Americana flavors are on full display with their debut album "Dig Deeper". Recorded at Bongo John Studio in Morrisville NC and released in the summer of 2014, Dig Deeper shows the versatility and depth of the band. Producer and engineer "Bongo" John Metcalf not only shows his expertise in the control room, he also performs on percussion throughout the album. From the warm acoustic tones of the opening track, "The One Who Lost the Love", the listener is aurally invited into the sonic space. The final two tracks again represent Urban Soil's ability to take their high energy sound and translate it into acoustic landscapes. Each track of Dig Deeper has its own flavor and genre slant, yet the album retains a cohesive sound from start to finish.

The second release of 2014 from Urban Soil is "Live from Deepwoods".  This album is intended to be a live companion to the band's studio debut "Dig Deeper".  Recorded at a private camp-out festival hidden deep in the Blue Ridge mountains, "Live from Deepwoods" captures lightning in a bottle.  The show is explosive, the crowd is fired up and one can feel the energy cycling back and forth from them to the band and back again through the music.  This album features their highly anticipated single and subsequent video, "Gotta Go." The track thoroughly displays the uncompromising energy that Urban Soil is consistent in delivering, and likewise exemplifies the band's skillful-yet–visceral sound.

Urban Soil is a working band steadily increasing their fan base with every fiery live performance and album sale. Embracing their much-deserved success, they stand out as a band to watch among the region's fertile hotbed of music. Urban from the city streets, and Soil from the grainy roots, this band soars into the clubs and airwaves with every component of their unwavering approach to Americana.  Please check out their tour dates listed below to grab a little bit of some Urban Soil!

Tour Dates
02/28/15 - TRIO - Draft Line Brewery - Fuquay Varina, NC
03/06/15 - 2nd Wind - Carrboro, NC
03/13/15 - The Red Room - Kinston, NC
03/14/15 - The Calico Room - Wilmington, NC
03/17/15 - The Local - Boone, NC (St. Patrick's Day Fun)
03/21/15 - Brewballs - Burlington, NC
03/27/15 - The One Stop - Asheville, NC
04/03/15 - Pancho N Luigi's w/ The Northerners - Norfolk, VA
04/11/15 - Hillsborough St. Earth Day Festival - Raleigh, NC (2PM Showtime)
04/11/15 - Murphy's - Boone, NC
04/18/15 - Hannah's Haus - Beaufort, NC
04/25/15 - Lincoln Theater w/ BIG Something and Dangermuffin - Raleigh, NC

Booking Contact: youngerbrotherproductions@gmail.com

WEBSITE  FACEBOOK TWITTER