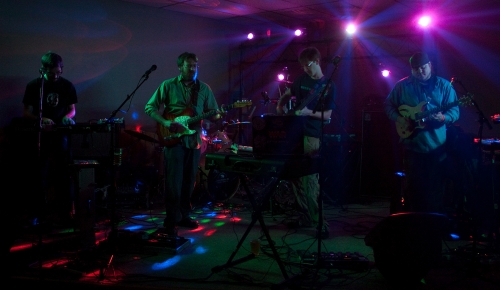 Jon Schinke:
Guitar, Synth

Curt Biese:
Guitar, Synth

Zach Chisholm:
Bass

Frank Deringer:
Drums

Sammy Binder:
Keys

Jeremy Defibaugh:
Percussion
Ifdakar's pursuit of musical growth and experimental improvisation create an experience not to be forgotten. Hailing from Appleton/Madison, Wisconsin, this six-piece band has garnered recognition from their live performances where the band channels elements of psychedelic rock, funk, jazz, reggae, and electronica.
From songs that are tragic, to songs that transcend, Ifdakar showcases an array of improvisational jamming and elaborately structured pieces that are steeped in influences such as Phish, Lotus, Pink Floyd, STS9, and many others.  This spectrum allows for dense musical freedom, to tension-and-release madness.
Since 2008, Ifdakar has delivered over 115 performances in and around the Midwest including headlining slots at the Grateful Garcia Gathering, and Campout Roots Festival, as well as appearances at Bella Madre, Summerfest, the Great Midwestern Harvestfest, Steel Bridge Songfest, and the Feel Good Festival.  2010 gets even more electrifying with yet another headlining slot at the Grateful Garcia Gathering, with Melvin Seals, and another trip to the Bella Fest for the Thursday night pre-party with EOTO.
Ifdakar's reputation continues to grow positively after each performance.  From the intimate audience connections that stir, to the dark and spacey jams that take hold, Ifdakar is about musical dialogue between each other and their growing audience.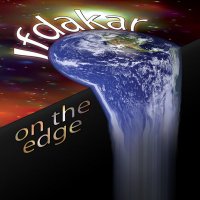 "With one foot planted on earth and the other planted in outer space,
Ifdakar's new album 'On the Edge' is a milestone in exceeding the
boundaries of the jam band genre. The ten track debut is filled with
ambient and euphoric propositions that will have your ears melding to
the speakers! More focused and more exotic with sweeping electronic
sounds, funk grooves and rhythmic roots. 'On the Edge' takes you
beyond the heady journey on earth and into the planetarium of wonder!" 
-Terry Dewey-gbnightlife.com-
"Ifdakar touches the senses with their new release 'On the Edge'.  The album proves to be many things musical to the listener, some of which include spacey techno jams, electric bluegrass, and straight ahead rock 'n roll." 
-Erik Riedasch-Underwater Productions-  
"The sound of the group seems fresh and fun!  Keep doing your thing." 
-Taxi (A&R)-
Listening to Ifdakar sent me back to 1969 watching Santana in concert.  It's so refreshing to hear real music from real musicians!" 
-James Flinn-Door County Concert Administration-
Catch Ifdakar live at one or more of their upcoming performances and experience the fastest growing force in the Midwestern jamband scene!
TOUR DATES
Saturday, May 22nd
Cranky Pat's with Roster McCabe
905 S. Commercial St.
Neenah, WI 54956
10pm - $5 - 21+
Thursday, May 27th
Bella Vida Festival with EOTO
Harmony Park
Geneva, MN 56035
http://bellamusicfest.com/
Friday, June 18th
Jakefest
Pearl Lake Campground
Redgranite, WI 54970
http://www.jakefestinc.com/
Thursday, July 15th
Egg Harbor Summer Concert Series
Harborview Park
Egg Harbor, WI 54209
5pm - Free - All Ages
Friday, July 16th
Coldshot
633 W Wisconsin Ave # B
Appleton, WI 54911
10pm - Free - 21+
Wednesday, July 21st
Ground Round
1010 Cameron Way
Neenah, WI 54956
7pm - Free - 21+
Saturday, July 24th
Moja Rosas
7778 Hwy 42
Egg Harbor, WI 54209
8pm - Free - All Ages
Thursday, July 29th
Grateful Garcia Gathering with Melvin Seals
NCN Campground
Black River Falls, WI 54615
http://gratefulgarciagathering.com/
Friday, August 6th
Peabody's Ale House
544 N Main St.
Oshkosh, WI 54901
10pm - Free - 21+
Friday, August 13th
Feel Good Festival
Portage County Fairgrounds
Amherst, WI 54406
http://www.feelgoodfestival.org/
Wednesday, August 18th
Ground Round
1010 Cameron Way
Neenah, WI 54956
7pm - Free - 21+
Saturday, August 21st
People Fest
Dodgeville, WI 53595
http://www.peoplefest.info/