The Three Rs: Reduce, Reuse, Recycle
We reuse scrap paper in our fax machine and for taking notes. Sensitive documents that go through our shredder are then composted and fed to our garden (appropriate food scraps are composted as well).

Our catalogs that come back in the mail and are still in good shape are sent out again to someone else. The same catalogs are also printed on up to 30% post consumer content.

We purchase office paper with as high of recycled content as possible (currently 100%!). All other used paper is delivered to the local recycling center along with our CANS, BOTTLES, CARDBOARD, PLASTIC etc. 

We reuse cardboard boxes and bubble mailers when possible for shipments and packaging.

Our festival crew reuses plastic water bottles and customers that need bags for their goods get recycled ones that we saved from prior shopping trips.

We use rechargeable batteries in equipment that requires them - not only does that eliminate hundreds of batteries from disposal - it also saves us lots of money in the long run.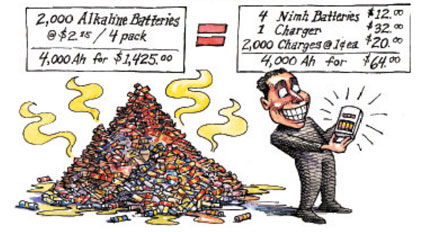 We're proud that we reuse and recycle many times more volume than we generate in waste.  We hope you'll strive to do the same.

For more green content - click the "Greening" link at our site navigation menu.
Look for more stories about how we are greening to appear in the coming weeks.
Happy Earth Day!