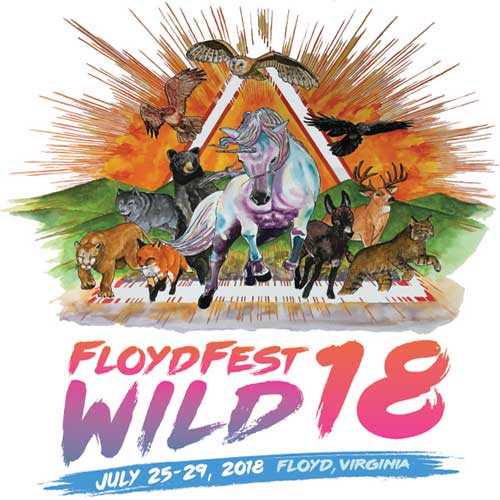 Answer the call of the wild ... FloydFest 18~Wild, the latest annual offering of the Southeast's premier summer outdoor music festival, taking place Wednesday to Sunday, July 25 to 29, 2018, at Milepost 170.5 on the Blue Ridge Parkway in Floyd, Va. Foster the People, The Infamous Stringdusters, Antibalas, Hiss Golden Messenger, The Steel Wheels, Devon Gilfillian, Lindsay Lou & the Flatbellys, and 2017 FloydFest On-the-Rise Competition winner, South Hill Banks, and runner-up, Dharma Bombs, round out Across-the-Way Productions' initial artist announcement for the 18th annual event. Second round announcements include: Jason Isbell and the 400 Unit, Langhorne Slim, and Nikki Lane. New additions and surprises are aplenty for FloydFest 18, one of which is the much-requested return of Onsite RV Parking.
"This is 'wild' as we find in nature -- it's an essence, it's an energy, it's an authentic state of being," Kris Hodges, co-founder and CEO, explained. "Our lives these days get so disconnected, so discordant, so consumed in a rat race, that we forget to stop and enjoy and embrace this life. We invite you to recall your 'wild;' be as a child."
Check out HGMN's review and photo gallery from Floydfest 2017!
Recently receiving top accolades from TIME Magazine, Blue Ridge Outdoors, Charlie Rose and Fox News, FloydFest 18's initial artist lineup capstones Indie-powerhouse Foster The People fresh-off the heels of their third album, Sacred Hearts Club (July 2017), celebrated as a dazzling demonstration of the group's infinite creative powers, fusing neo-psychedelia, punk, funk, electronic, dance and hip-hop. Having catapulted to international stardom via 2010's "Pumped Up Kicks," Foster The People haven't slowed their trajectory, receiving multiple Grammy Award nominations, touring globally, and reinventing their sound, defying while defining new musical genres. The Infamous Stringdusters joins the FloydFest 18~Wild lineup five days after the debut of the band's third release of 2017 (Undercover Vol. 2, following Laws of Gravity and Laws of Gravity Live). Letting the past inform and the present propel, the Stringdusters' style and substance are uniquely infamous and remarkably popular, positioning the band perfectly for a return trip to the mountain.
Inspired by Fela Kuti's Africa 70 band and Eddie Palmieri's Harlem River Drive Orchestra, Brooklyn-based Antibalas are heralded afrobeat ambassadors, credited with introducing the West African-funk-jazz fusion genre to a wider global audience. Also making waves on a global scale is Hiss Golden Messenger, whose latest album Hallelujah Anyhow (September 2017) is defining the next direction of the formidable Indie-folk genre. Hailing from our home -- Virginia's Blue Ridge Mountains -- The Steel Wheels return for FloydFest 18 for another progressive folk infusion, and, for the first time on the mountain, Wild welcomes Devon Gilfillian, who will fire his twin barrels of gospel-blues and southern soul into the emerging lineup. Joining this extraordinary initial bill are 2017 FloydFest On-the-Rise Competition winner and runner-up, South Hill Banks and Dharma Bombs, as well as Lindsay Lou & the Flatbellys, a fast-picking folk band peppered with an indelibly soulful voice.
The unforgettable magic that was FloydFest 16's (Dreamweavin') and FloydFest 17's (Freedom) Buffalo Mountain Jam returns in 2018 for its third-annual installment, with more details due for release in the coming months. Known for its impromptu artist collaborations, super jams and special guests, the Buffalo Mountain Jam's lineup gets even 'wilder' for the 18th annual event -- not to be missed.
"The Buffalo Mountain Jam is extremely important to witness -- it's a capstone of the festival, spotlighting 'new-school newgrass,'" Hodges said. "It's a free-form jam that speaks to the quality of the musicians that make it happen ... and this year it's going to get wild."
As always, FloydFest will also include vibrant and varied vendors, quality craft brews and chews, healing arts, workshops and whimsy, children's activities, onsite art installations and a final lineup featuring more than 100 artists performing on nine+ stages.
Voted 'Best Outdoor Music Festival,' FloydFest is also selling tickets to its Outdoor Adventure programs during the early-bird ticket on-sale, including its popular On-the-Water Guided Float Trips and Belcher Mountain Beatdown mountain-bike excursion. 
FloydFest is located at Milepost 170.5 on the Blue Ridge Parkway in Floyd, Va. Detailed directions are available by clicking to www.floydfest.com.