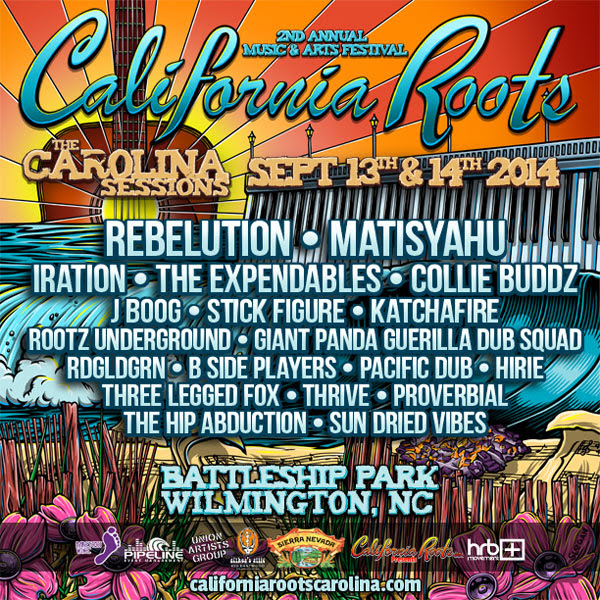 The final lineup for The California Roots: The Carolina Sessions Festival has been announced today, totalling 19 bands that will all be appearing at Carolina Sessions for the first time. Headlining the two nights of of the festival will be Multi-gold RIAA certified reggae legend Matisyahu and the chart-topping all-stars Rebelution.
Speaking on playing California Roots: The Carolina Sessions for the first time, Matisyahu stated, "This festival has always been great to me on the west coast...looking forward to taking it east with them."
Last year, California Roots made its East Coast debut with the inaugural Carolina Sessions Festival. What began as a grassroots festival in Monterey, California, has grown over the last five years into one of the most unique festivals in the country.
California Roots: The Carolina Sessions seamlessly combines music, art and environmental consciousness to create an atmosphere of unity, peace and creative flow. From the bands and artists that grace the stages, to the beautiful setting of Battleship Park overlooking downtown Wilmington, NC and the Cape Fear River, every aspect of the festival has been planned to make for the most positive experience for each and every fan.
Based on the success of last year's Carolina Sessions festival, organizers listened to many fans suggest that more bands would make for an even better experience this time around and added a second day. With double the bands on two stages over the course of a weekend, tickets are already going quickly.
Last year the first California Roots: The Carolina Sessions festival made a strong and positive mark on the Wilmington entertainment scene, as well as on the East Coast reggae scene. Cali Roots has become a staple reggae festival on the West Coast in the last several years, and Carolina Sessions is following a similar path. Drawing over 4500 attendees, the festival was nominated for Encore Magazine's Best of Wilmington list in the category of "Best Things To Happen in Wilmington in 2013", and received rave reviews from the press, artists and fans alike. The essence of the festival was expertly captured in the official 17 minute mini movie, viewable at http://youtu.be/dmn93Gp80yg
 
California Roots: The Carolina Sessions Full Lineup
 
Matisyahu
Rebelution
Iration
The Expendables
Collie Buddz
J Boog
Stick Figure
Katchafire
Rootz Underground
Giant Panda Guerrilla Dub Squad
RDGLDGRN
B Side Players
Pacific Dub
Hirie
Three Legged Fox
Thrive
Proverbial
The Hip Abduction
Sun Dried Vibes
Links:
Tickets: https://www.eventbrite.com/e/2nd-annual-california-roots-the-carolina-se...
Website: http://calirootscarolina.com/
Facebook: https://www.facebook.com/CaliforniaRootsCarolina/