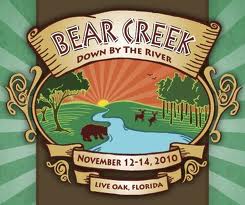 November 12-14, 2010
To Legendary Spirit of the Suwannee Music Park in Live Oak, FL
Moe. just added. They Join Umphrey's McGee,
Ivan Neville's Dumpstaphunk, Lettuce,
The New Mastersounds, Perpetual Groove, Toubab Krewe and Many Others


Today, Bear Creek Music Festival announces the addition of moe. to the festival's already stellar lineup. They join headliners Umphrey's McGee on November 12-14 at the legendary Spirit of the Suwannee Music Park in Live Oak, Florida. Also scheduled to perform are Ivan Neville's Dumpstaphunk, Lettuce, The New Mastersounds, Perpetual Groove, George Porter's Running Pardners, Toubab Krewe, Zach Deputy, Maceo Parker, Pee Wee Ellis, Fred Wesley, Bernie Worrell, DJ Logic, Soulive, The New Deal, Bonobo Live Band, Eliot Lipp and many others.

Now in its fourth year, Bear Creek Music Festival has become of the country's favorite niche music events, attracting festival goers from all around the country with its eclectic lineup, idyllic setting, and easy going vibe.

Voted "Florida's Best Live Music Venue" in 2009 by readers of Florida Monthly Magazine, Spirit of the Suwannee Music Park is set against North Florida's historic Suwannee River and offers 800 acres of pristine camping dotted with soaring Spanish moss covered oak and pine trees, cabin rentals, RV hookups, and a wide range of amenities including a restaurant, general store, showers, full service bathrooms and more.

Complete lineup, ticket info, and all details including Wednesday night's Pre-Pre Festival and Thursday's Pre-Festival Kick-Off Parties available here: http://www.bearcreekmusicfestival.com/2010/


About Big IV Productions
Big IV Productions is owned and operated by Paul Levine and Lyle Williams, founders of the Bear Creek Music Festival and co-producers of the brand new Blackwater Music Festival with Blackwater Music, LLC (a company owned by Williams and Judy Van Zant / owner of Jacksonville Beach, FL's Freebird Live). Deeply engrained in the Florida music scene, Big IV Productions is also partners in Tallahassee's Engine Room as well as Suwannee River Jam, and producers of the Purple Hatter's Ball.
The Bear Creek Music and Art Festival is proud to announce the 2010 lineup:

Umphrey's McGee x 2
Maceo Parker Band
Ivan Neville's Dumpstaphunk x 2
Lettuce x2
Soulive
The New Deal
Bonobo Live Band
The New Mastersounds x 2
Perpetual Groove x 2
George Porter's Running Pardners x2
Bernie Worrell & Social Lybrium
Papa Grows Funk
Toubab Krewe x2
Zach Deputy x 2
DJ Logic
John Brown's Body x2
The London Souls x 2
The Everyone Orchestra
Will Bernard Band
DubConscious
Garaj Mahal x2
Rebirth Brass Band
Eric Krasno and Chapter 2
Break Science with Chali 2'na
The Dead Kenny G's
Big Sam's Funky Nation
The Heavy Pets (Wed & Thurs)
Saltwater Grass
The Soular System
Curious Circus
Lingo
Papadosio
The Tony Hall Band
Brian Stoltz
Dr. Claw
The Sam Kininger Band
Chali 2'na Duo
Rubblebucket
The Macpodz x2
Lubriphonic x2
The Nigel Hall Band
Eliot Lipp
Alex B
DJ Motion Potion
Cadillac Jones
The Malah
Green Hit
Van Ghost
Honey Island Swamp Band (Wednesday)
Billy Iuso & the Restless Natives (Thurs)
Brock Butler
Josh Phillips Folk Festival
Orgone
The Legendary JC's
Avis Berry's Soul Revue
Matt Grondin Band
Suenalo (Thurs)
Zoogma (Wednesday)
Aquaphonics (Wednesday)
Snarky Puppy
Greenhouse Lounge
Burnin Smyrnans
The Fritz
Entropy
Spiritual Rez
Team Jaguar
TAZERFUNK!
Cope
Diocious

Artists at Large:
Fred Wesley
Pee Wee Ellis
Chali 2na
Skerik
Mike Dillon
The Shady Horns
Kofi Burbridge
Jennifer Hartswick
Yonrico Scott
Jans Ingber
&
Donna Hopkins

more to come...