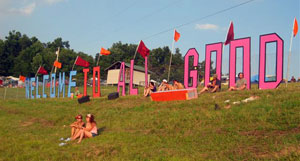 It's been six years ago this May since I covered my first All Good. Back then the festival seemed to reflect my life raw, wide-open and untamed. It was cold and rainy, at that time being what seasoned heads refer to as an "Early Season Joint", All Good still delivered. Despite inclement weather that year, Galactic and Gov't Mule and Karl Denson's Tiny Universe among others played amazing sets and the overall experience was monumental. I feel like I've grown up with this festival both as a journalist and a music lover and over the years some things about the All Good experience have faired the weather: it's commitment to accommodate all walks of life, the general feeling of family and sharing and it's hard hitting talent roster... not to mention the breath taking view off of Marvin's Mountaintop.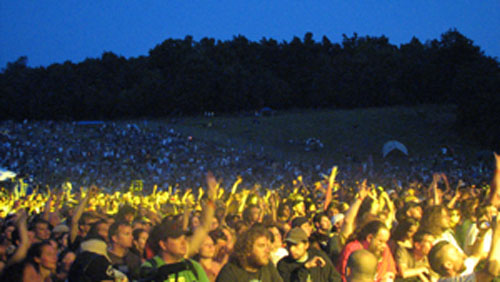 Fast-forward to 2008, All Good has bloomed to a full-blown, eclectic, three day banger sporting some of the finest touring talent the scene has to offer. Thursday nights in past years have been a musical gold mine for the "early arrivals" and this year promises the same with the likes of Perpetual Groove, the Brazilian Girls and a screaming set from the Join featuring keyboardist Jamie Shields and drummer Darren Shearer of the NEWDEAL and Marco Benevento & Joe Russo (the DUO).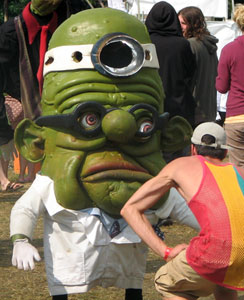 If you can't make it Thursday night never fear, Friday is set up to run with SOJA, Phil Lesh & Friends, Medeski Scofield Martin & Wood, All Mighty Senators, Grace Potter & the Nocturnals, The Avett Brothers, Basshound, RAQ on Friday followed by a stacked Saturday featuring The Bridge, Widespread Panic, Bassnectar, Keller Williams w. Moseley, Droll & Sipe, Derek Trucks & Susan Tedeschi Soul Stew Revival, Mike Gordon, Tea Leaf Green, Outformation and Eric Lindell to round it out. (Whew) The list goes on for Sunday but the bottom line here is the organizers didn't skimp on talent so can attendees get their live music fix and their boogie on all weekend long. The great thing about the camping arrangement on Marvin's Mountaintop is that you can access the festivities easily from most areas without having to walk excessively far. If you arrive later in the weekend you probably won't get stuck camping in the boon docks but you'll miss monumental sets so don't lag.
Both Friday and Saturday offer tasty late night treats featuring, Gov't Mule (Friday) and Dark Star Orchestra (Saturday) respectively. One of my favorite things to do at AG after a slamming late night set is to hike out to a remote ledge in the wee hours and watch the fog lurch in through the ravine to the east of the campground just before the sun's first ray pierces the spine of the rolling Maryland mountains.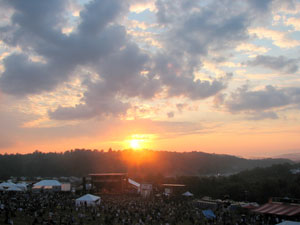 The fabulous team at Walther Productions toils year-round to bring you the finest offerings on the Mid-Atlantic festival circuit and have been doing so for twelve years. For me, AG is more like a sprawling family reunion where you come to reacquaint with old friends and meet new smiling faces alike. The entire experience is peppered with fantastic, continuous music on three stages, artisan vendors, day workshops for campers of all ages, international cuisine and a slew of face melting visual goodies via the goofy but lovable goons from Big Nazo. This year's All Good promises to be all better so make the jaunt to the mountaintop in Masontown, West Virginia for a dazzling weekend of fun and camping fit for the whole family.
More info at http://www.allgoodfestival.com/2008.htm
- Words & images by Brian Zickafoose