JAKE CLAYTON is a 25 year old multi-instrumentalist based in Nashville, TN. Although considering fiddle to be his primary instrument, Jake also plays guitar, dobro, banjo, mandolin, lap steel, pedal steel, piano, bass, and more. In total, Jake plays 27 different instruments which also includes a list of orchestral instruments such as the viola, cello, and stand-up bass.
Jake Clayton has been steadily building a name for himself on the Country Music circuit over the past 8 years playing as a 'utility musician' for various recording artists. Currently touring as the utility player for Country Music artist Sunny Sweeney (an opening act on the 2011 Brad Paisley H2O II tour), Jake also spent the majority of 2009 on Brad Paisley's "American Saturday Night Tour" as the utility player for opening act Jimmy Wayne. Having already performed with Country Music stars at legendary venues such as Madison Square Garden & Nashville's 'The Grand Ole Opry', Jake has appeared in two Top20 Country Music videos and several shows on CMT, GAC, and various other national and regional broadcasts in the US. Jake has toured with Country Music legend, Tanya Tucker, and has also had the high honor of playing music with Taoist monks in their monastery at Mt. Laoshan, China along with an appearance on national television in Qingdao & Jinan, China. Jake Clayton's playing and reputation has garnered him endorsements from top companies such as Black Diamond and Supersensitive Strings, Kawai Pianos, Michael Kelly Mandolins, Fishman Transducers, L.R. Baggs Pickups, and more.
Jake Clayton has now officially entered the music scene as a recording artist with the release of 'Barnyard Stomp', a genre-bending collection of 12 instrumental songs that combine influences from Country, Bluegrass, Rock, and beyond! 'Barnyard Stomp' not only showcases Jake's knack for merging traditional styles with modern sounds, but it also spotlights Jake's unique abilities on multiple instruments. On this album, Jake played everything except drums and 2 guest guitar tracks!
"I think this album will be a reflection of how I see the music world, one big melting pot of sound!" –Jake Clayton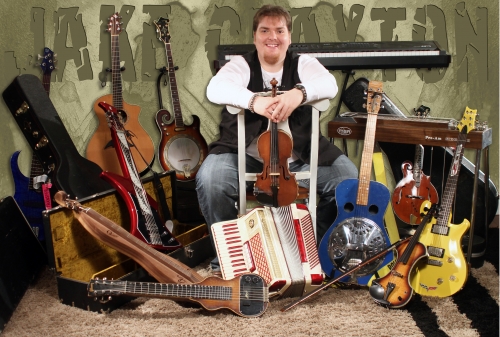 Feel free to comment below