Posted by: Robie | August 15th, 2012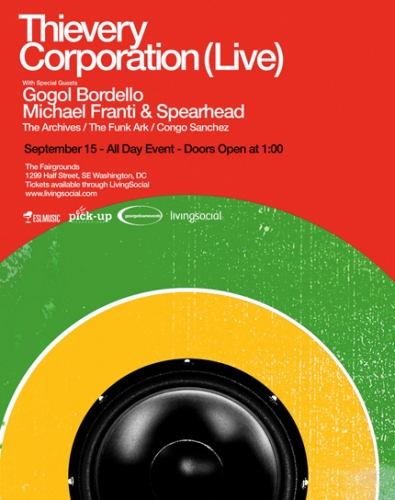 The all day music festival will be taking place on 9/15 at Fairgrounds in Washington, DC. DC's own Thievery Corporation will be closing out the show. The outdoor venue will also be hosting a side stage with various DJ's throught the day.
Doors to this festival open at 1 p.m., music kicks off around 2 p.m. when the day's first musicians take to the two performing areas. One stage will play host to Thievery, as well as other bands, such as Gogol Bordello, Michael Franti & Spearhead, and more. The other will feature a load of local DJs and musicians. Mingle between the two, sip on some ice-cold beverages, and enjoy bites from the string of food trucks on hand and enjoy this decidedly home-grown fest.
The show is at Fairgrounds, a large outdoor venue ideally located at Half & M Streets, SE, on the large block just north of Nationals Park and directly across the street from the Navy Yard Metro station entrance, Fairgrounds is part of the Capitol Riverfront, DC's new mixed-use community and neighborhood on the water.
Fairgrounds is located at 1299 Half Street, SE Washington, DC 20003
Admission is $59 and Tickets are now available through Living Social.