Posted by: Robie | May 31st, 2012
BIG Something and Possum Holler Productions proudly present:
THE BIG WHAT?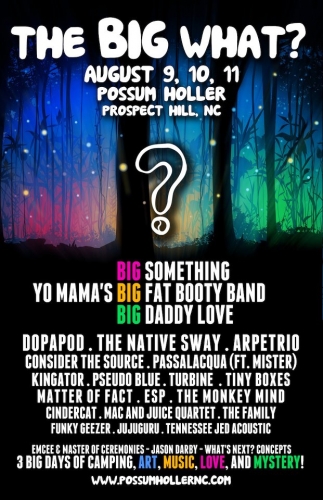 What does "The Big What" mean? Well, I guess to truly understand its meaning you will have to experience it for yourself. With talk of an abundance of nonsense, wild theme nights, contests and crazy surprises, there's really no telling what the hell you'll be getting yourself into. Just know that it will be a 3 day spectacle with some of the best bands North Carolina has to offer, including such national acts as Turbine, Dopapod and Consider the Source.
Possum Holler is an outdoor venue located on 25 acres west of the Triangle area in Prospect Hill, North Carolina. It is also home to the Groove in the Holler Music Festival.
As creators of The BIG What? – the band members of BIG Something will act as your hosts for the weekend taking part in various aspects of the festival including welcoming you at the gate, DJing between sets, sitting in with other bands, participating in contests, facilitating nonsense, stirring up trouble, and making sure everyone is having a good time. 
"This is going to be a very BIG show for us as a band, but it's also about celebrating the wonderful and amazing people who support us," says front man, Nick MacDaniels.  "Possum Holler has earned a very special place in our history and development as a band. There's something about the connection and energy we have felt with the audience there that is truly magical. Its helped us understand that together we are all apart of something bigger than ourselves. We really feed off of all the creativity and energy that Possum Holler brings out in people and we're going to make sure that this show is larger than life. I've got goosebumps just thinking about it."
Featuring Performances By:
BIG Something
Yo Mama's BIG Fat Booty Band
BIG Daddy Love
Dopapod
The Native Sway
Passalacqua (featuring Mister)
Arpetrio
Consider the Source
Pseudo Blue
Turbine
Matter of Fact
Tiny Boxes
Mac and Juice Quartet
Electric Soul Pandemic
The Monkey Mind
Funky Geezer
The Family
JujuGuru
Tennessee Jed Acoustic
Special Guest Emcee and Master of Ceremonies: Jason Darby - What's Next? Concepts
Tent camping (or hammock camping) is encouraged and included in the ticket price. Please camp in designated areas only. We apologize, but vehicles are not allowed in tent camping areas. It's only a short distance from your car to your campsite and there will be a trolley to help transport you and your camping gear.  Please note that personal campfires are prohibited. Campsites are claimed on a first-come first-serve basis so come early if you want to ensure a good spot. Most campsites are located in the woods – come fully prepared for an outdoor summer environment with hot days and cool nights.
Car camping and RV space is SOLD OUT. Please do not bring an RV, Camper, or Trailer if you have not already purchased an RV or Car Camping Spot. There are plenty of regular camping spots available.