Posted by: Robie | October 10th, 2012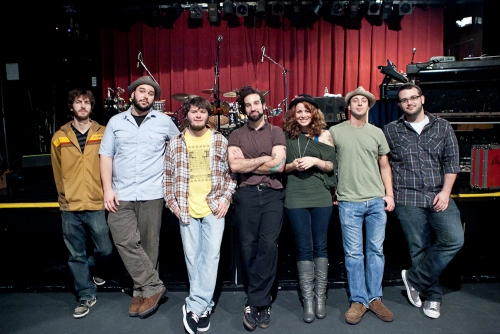 iLa Mawana is fusion of groove music ranging from funk/soul to roots/dub reggae. Live performances are infectious with positive energy and the octet delivers their full sound with tight pocket grooves that display the diverse musical background of each member of the group.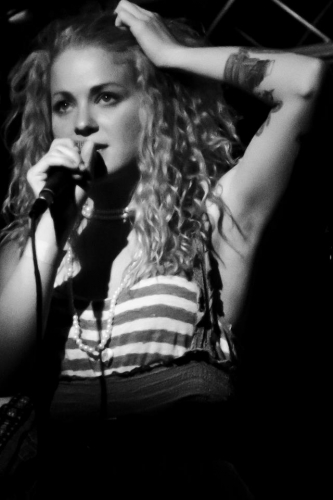 More recently the group has joined forces with singer/songwriter Hayley Jane, the new 'front woman' and lyrical guru of iLa Mawana, who has helped inspire a new set of original material the group has yet to release.  An EP with all new original tunes is in the works and several songs will be released prior to iLa Mawana's show at The Paradise supporting International Reggae Superstars: Groundation
The Boston-based band & family has been touring the Northeast since 2007, including 2 national tours following the release of their debut studio album, Soldiers of Sound, in 2010. The album features 12 original tracks offering positive commentary on social awareness, blissful horn melodies, and warm tasty grooves that make you "absorbed in their vibe" 
- Homegrown Music Network.
"...a stealth contender for one of the best albums of 2010" - Lucid Culture
"iLa Mawana's heart may lie in reggae's past, but their diverse take on traditional roots/reggae is what I perceive to be the future" - Lost in Sound
WEBSITE  FACEBOOK TWITTER YOUTUBE
iLa Mawana w/Groundation
11/6 Paradise Rock Club - Boston, MA
11/7 Highline Ballroom - NYC, NY
11/8 State Theatre -  Falls Church, VA
Groundation 
2012 will be a year remembered for a lot of things - world-wide unrest, wars, famine & great uncertainty. Not least of all, it will be remembered as the year Groundation built an ark. Through their musical evolution, spanning now 7 full-length studio albums and numerous side projects, Groundation has developed an international following that has brought people together from all continents, races and creeds through a shared vibration and vision. With "Building An Ark" Groundation has created a vessel by which this community can come together and weather the rough and rising seas that are to come.
"Building An Ark," like the band's previous albums before it, sets a new benchmark in not only production value, tone and power---but also in its visionary elements of blending styles and tackling heavy subject matter. Whether the outstanding solos and interplay of the players of instruments or the uplifting and complimenting vocal harmonies, Groundation pulls off the singular feat long mastered by true Roots Reggae----rough and revolutionary messages draped in appealing and soothing music. And the results speak for themselves.
Already, the Building An Ark 2012 World Tour has seen the band play to tens of thousands of fans on four continents and over twenty countries. The US segment of that tour brings Groundation back to their stomping grounds on the West Coast, as well as some very select Eact Coast dates, plus the Caribbean and Hawaii. US audiences are finally starting to catch up to their international counterparts. With the band's ever-changing set lists and extended improvisation grooves, a core "jam-band" type following hitting multiple shows in a row has sprung up from Oregon to Florida and all points in between.
Watch Official Video for the Single "Humility"