Posted by: Robie | August 23rd, 2011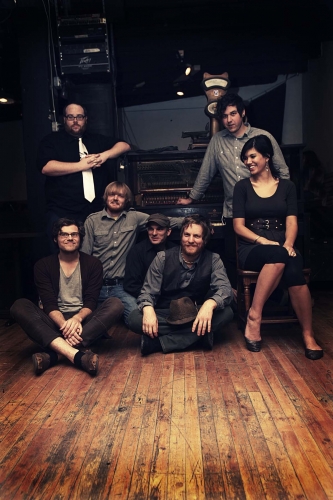 Stephen Roach - vocals, hammered dulcimer, tenor banjo, acoustic guitar, percussion
Luke Skaggs - vocals, electric and acoustic guitars, fiddle, saz, percussion, etc.
Jason Windsor - classical, acoustic & electric guitars, mandolin
Greg Willette - acoustic and bass guitar
Michael Pritchard - drums, acoustic guitar, percussion
Jon Kleigle - accordian, violin, flutes, piano,
Elisa Rose - violin, vocals, aux. percussion, shruti box

This seven piece ensemble, delicately blends instrumentation from across the globe in a uniquely American context. The uncommon use of the hammered dulcimer, melodically leads many of the group's pieces, followed by the resonance of various acoustic instruments and a brooding foundation of heavy percussion. Layers of orchestral strings and sparse vocals create a cinematic appeal to the otherwise raw expression of musical compositions.
Songs of Water's sophomore release, "The Sea Has Spoken" ebbs and flows with sweeping strokes of light and dark, gracefully weaving world-folk traditions in an intimate Americana setting. The ferocity of complex percussive rhythms, sparse cinematic vocals and dancing melodies create an earthy yet transportive musical narrative.

Press
"Songs of Water is one of the most original bands out there today. They have opened shows for me, and my crowd loved them. They will do well with any age group. They are a wonderful band to work with." -
Ricky Skaggs
"Songs of Water's sophomore album, The Sea Has Spoken, is one of the most vibrant musical works I've heard in the last three years." -
Beth Yeckly, The Blue Indian
"Although listeners will hear more than 30 instruments on the new album -- from dun duns to doumbeks -- the songs still ring familiar. Traditional sounds from the hammered dulcimer, banjo, and acoustic guitar reflect North Carolina's musical roots. All the musicians credit their North Carolina heritage for influencing their music."
Carole Perkins, Our State Magazine
"[I'm] greatly enjoying The Sea Has Spoken, a very rewarding listen from Songs of Water..."
Fiona Ritchie, NPR's Thistle and Shamrock
"While I don't actually know how they came up with the name Songs of Water, I can't help but find it fitting. To me, it means music that is raw, beautiful, and pure. Water is often associated with life and the wide variety of instruments (over 30!) showcases the member's individual lives and influences. Finally, water can mean reflection. When listening to Songs of Water, the music is so peaceful that it allows the listener to enter a state of reflection. In so many ways is this name appropriate."
The Hidden Mixed Tape
"Had Songs of Water in for an interview on my show again and I want to have them come back yet again. Songs of Water is the type of band that reminds me why I love this business!" -
Divakar, 106.5 FM The End, Charlotte, NC
"The whole record ebbs and flows with graceful gestures, sweeping strokes of light and dark, complex layering and effortless playing... the collection as a whole is so engaging that, surely, to see the musicians in action would only add to the experience." -
Alli Marshall, Mountain Xpress
"No matter what your flavor of folk or world music, I think you'll probably find something on the new Songs Of Water disc that you'll like. I know that I certainly did." -
Chris Smith, New Indie Bands
"Just two months into the year, we're ready to declare that Songs Of Water's The Sea Has Spoken is one of the most finely crafted (mostly) instrumental albums of the year." -
Wildy, Wildy's World
UPCOMING SHOWS

August 24, 2011
The Blind Tiger | Greensboro, NC
with special guests Crystal Bright and the Silver Hands

September 30, 2011
The Harvest House | Boone, NC
with special guest Aradhna

October 20-23, 2011
The LEAF Festival | Black Mountain, NC
Tickets | Day and Time TBA