Posted by: Robie | August 22nd, 2012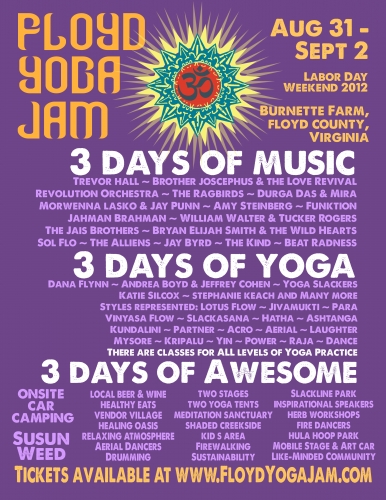 The Floyd YOjam is a 3 day music festival with 3 full days of music and 3 full days of yoga classes and workshops in the magical Floyd County, Virginia. Expect a well rounded festival experience with 17 bands on 2 stages, 2 large yoga tents, local beer, wine & healthy eats, curated vendor village, holistic healing oasis, performance & interactive arts, meditation sanctuary, kid's area, onsite car camping, inspirational speakers, herb workshops, firewalking, slacklining, hoop park, community hangout tent, shaded creekside, aerial dancers, fire dancers, and a mobile solar power stage art car. 
And if you've not heard of Floyd before, you're in for a treat. This is a place that must be experienced to be believed. The Universe shines bright here and has attracted an amazing community of inspirational people to the area. The energy will surround you. The YOjam is inspired by all of this, you will be inspired. We, the four founders of Floyd Yoga Jam, felt called to create this event and share the magic. We seek to entertain and uplift each individual; awakening positive change within, leading to more positive change in the world.
Join us in creating a temporary community of beautiful like-minded people and feel the energy of what is possible within yourself and beyond. The yoga classes are open to all levels. True to the yogic philosophy, you come to the mat as you are. There should be no worry about whether or not you're good enough, because its all about you. This is a chance to experience new styles & new teachers. Perhaps a chance to go deeper then you ever have before.
We have drawn our inspiration from all the great festivals that have come before us. It would be impossible to list them all, but we'd like to give a shout out to Wanderlust, FloydFest, Magfest, and Burning Man. Floyd Yoga Jam will be a combination of these vibes, along with our own unique additions to the festival experience.
The festival site, Burnette Farm, will win your heart with its gentle rolling meadows, large shade trees, and the creek waters that flow throughout. There's  plenty of room for participants to car or primitive camp onsite, creating a lively neighborhood atmosphere for the weekend.
Our mission is to nourish your highest potential, create vibrant connections, and enliven the community.
The founders of Floyd Yoga Jam are firmly committed to the community and supporting local initiatives in both the creative and environmental sectors. In addition to working with local non-profits on a variety of different projects, we will also be setting up a micro loan program of our own, with the goal of helping fund startup creative ventures within our community.
Lineup
Trevor Hall -David Newman (Durga Das) & Mira
Brother Joscephus and the Love Revival Revolution Orchestra
The Ragbirds - Funktion - Jahman Brahman
Amy Steinberg - Morwenna Lasko & Jay Punn Quartet
William Walter & Tucker Rogers - The Kind
Bryan Elijah Smith & the Wild Hearts
Sol Flo - The Alliens - Jay Byrd - The Jais
Beat Radness Project
and more...