Posted by: Robie | December 21st, 2011
Yo Mama's Big Fat Booty Band (aka the Booty Band) has been around since 2002 and has gone through numerous lineup changes.  The biggest change was when long time band mate Josh Phillips left the band a few years ago to start the 'Josh Phillip's Folk Festival'. Since then Mary Frances and Lee Allen from the band Eymarel stepped in as permanent replacements, ending the bands rotation of a long list of drummers and adding a soulful touch on vocals and harmonies.  The Booty Band is known for their funky over the top live performances  and I had a chance to interview them shortly after their show at The Cat's Cradle.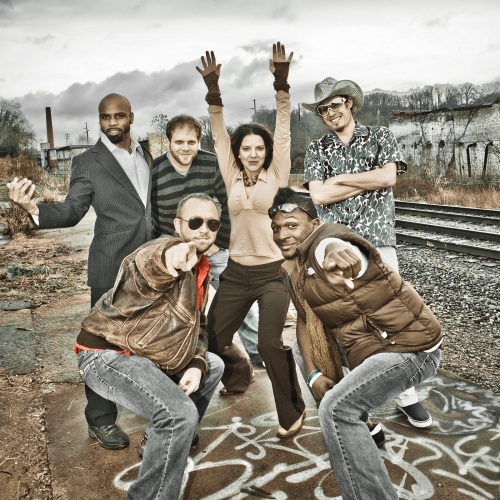 Al Al Ingram - Bass, Vocals
Derrick Johnson - Trombone
Greg Hollowell - tenor sax, bari sax, flute
JP Miller - Guitar, vocals
Mary Frances - Keys, Vocals
Lee Allen - Drums
Interview by Maisie Leach
Photos: Josh "Jabberpics" Branstetter
HGMN: So where are you from? I know you live in Asheville now but originally?
Al Al: Me personally, I'm from Laurinburg, North Carolina - L-a-u-r-i-n-b-u-r-g. Me and the drummer are from the same hometown. His dad, actually, was my music instructor in high school.
HGMN: So did you know each other?
Al Al: Yeah. I met Lee when he was in 7th grade and I was in 8th grade. We were both in the marching band. Greg, our saxophonist, he's from Michigan. Derek, our trombone player, he's from Alabama. JP is from Florida and our keyboardist, Mary, she's from Virginia.
HGMN: You have a new album coming out, right?
Al Al: The album was about to come out. We were really trying to have it out by our Orange Peel show.
HGMN: Which is when?
Al Al: Uh, yesterday. We played the Orange Peel last night. But yeah, our album, we had a couple little delays. The artwork is done by Lebo. He does all the JamCruise art and stuff like that. We were hoping to get it out as soon as we could possibly get it out, sometime before next year or before March. 
HGMN: What's this album going to be like?
Al Al: We haven't had a studio album since "Now you know" which came out in 2007. The main thing is that the members have changed a little bit. We started back in 2002. Greg, JP and I have been here since the beginning. We had a few member changes, drummers more than anything else. I think Lee's here to stay. Mary Frances, she joined up about a month after Lee did, 2 years ago. So there have been member changes and our music has evolved. It's a collaboration of all our experiences and being on the road and things that we go through. 
JP: It's called "Doin' It Hard" and it's more like a hard feeling. It has lots of emotion.
Mary: It's our motto in all parts of life. We tour hard...
Greg: Being on the road is hard...
Lee: We make love hard... Like that James Brown interview. "We love hard, I feel hard"
Mary: And we've also recorded on top, on analog and it creates more of a really warm live show. It feels like you're right there in the room with us. It's really powerful.
HGMN: I liked the thing you did during the performance when you sat down and talked to the crowd. That was nice.
Derrick: That's the real shit.
JP: That's the church of Derrick Johnson.
Derrick: We have these kinds of discussions in the band a lot. Sometimes you gotta put the audience on the same plane as you. Like, Mary and I will sit there and talk about, you know, Occupy Wall Street. Did you see this? Did you see that? Actually saying to your audience, "Hey, don't feel like you're alienated. We are all on the same system. We are all gonna be doing this shit together." I love getting down there and doing that.
HGMN: Which bands have you played with recently do you think are "on the verge"?
Al Al: Dopapod. They live in Brooklyn. They played a show with us yesterday. They rocked it. Of course I like the Mantras. They are always good with us. Playing the Getdown with ESP and all those kids has been pretty fun. We did a run with the Pimps of Joytime in Texas. We did like a 4 night run with them. That was awesome. People always compared us a lot and we'd always heard about each other. We've played Wakarusa and some of the same festivals together but it was the first time we got to hang out and get to know each other. It was a good bonding experience. Their drummer, Steve, he used to play with Charlie Hunter and he was playing here (Cat's Cradle) the first time I got to see them in 1997. Sister Sparrow and the Dirty Birds, they are hot. We got a lot closer with Galactic. Those are the most memorable ones. We've basically been on the road since the last week of February.  No weekends off or anything.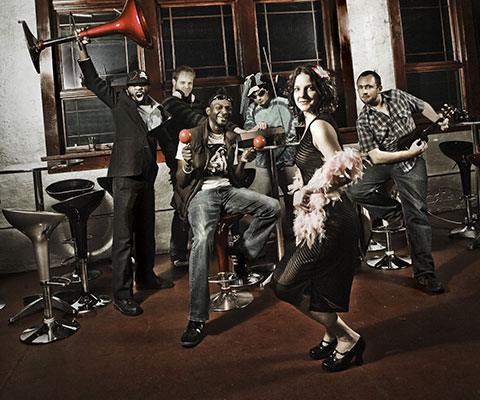 HGMN: I saw you earlier hanging outside with the fans. Do you normally do that?
Al Al: Yeah. We're sociable like that. Like Derrick was saying earlier, we don't want to feel alienated or don't want people to feel alienated.
JP: I get really alienated and awkward and weird.
HGMN: How's that?
JP: I just get really awkward. (laughs)
Al Al: This is going way better than the last few interviews we had.
Greg: Yeah, last time this guy asked us if we were animal crackers which one would we be and which part would you eat first and why? (Laughs)
HGMN: What? That sounds like one of those strange job interview questions.
Derrick: It's like, if you could write a book, what would your first 10 chapters be? That's like when I interviewed for Banana Republic in college. I kid you not. I actually had that question happen.
HGMN: So growing up did you always think that you would be a musician?
Al Al:  I definitely wanted to work in music. I went to school for Music Education and English as a minor. I wanted to be a music teacher or English professor. I didn't really know what I wanted to do but music saved my life in high school. I would have been a bad, bad boy in high school if it wasn't for music. It kept me straight. I played in the school band since I was in 7th grade. I played with Lee and we would see each other and talk in band class and things. It was a cool experience.I actually signed in his yearbook," Hey Lee, this is Al Al. I heard you like jamming out sometimes. Hopefully sometime in the future we can jam out too." And the first time we got to jam together was with the Booty Band. It's cool how it came full circle.
HGMN: What's your favorite thing about performing?
Al Al: Just how it makes me feel. When I'm on stage I don't have to worry about shit. I don't have to worry about bills. I don't have to worry about a mortgage. I don't have to worry about kids. I don't have to worry about anything besides having a good time. I feel invincible, I feel purpose. You take all that emotion out.
HGMN: Yeah, something I noticed about your show tonight is that you all are having so much fun but it is kinda like a whole different world, you know.
Al Al: Yeah. You can be homeboy, a good ol' boy, a redneck, and gangster, whatever you want to be. You can be at a Booty Band show and it's all love. We aren't hurting anybody and we can make it all work together. I never thought I'd still be playing music still to this day, you know. I really can't see myself doing anything else.
HGMN: Mary, did you grow up thinking you would be a musician?
Mary: (Laughs) Yeah. You can ask my parents, I would tell them I wanted to grow up and play music. I have recordings of when I was like 3 and 4 years old of me putting on shows. Lee and I do a group called Eymarel and it's just us performing in the living room and playing piano. When I was little I would perform old Bob Segar to pretend crowds and stuff. Music runs real deep in my family. My grandmother played piano and was a very renowned organist and my uncle plays piano. My Dad's a drummer, my aunt plays music. I was born to do it.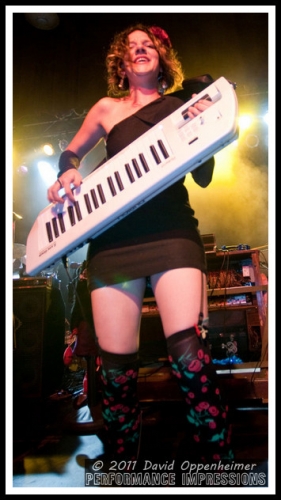 HGMN: And how'd you learn to play that keytar backwards like that?
Mary: Trial and error. The hardest part of that is getting it back there. The keytar I've had for like a year. Last year we were in Portland, I woke up from a dream. I told Lee in our bus "Destiny," I'm buying a keytar today. I called my Mom and Dad, "It's July, I know, but can I get my Christmas money now? 'Cause I'm buying a Keytar." It's really changed my expression on stage, my ability to connect with the crowd. Behind a keyboard rig you're stationary but with the keytar I can get up and move around and dance.
(Jokes from the guys about Mary and her keytar) "She used to be so quiet and reserved. And then she got that keytar and she's like a different person!"
Mary: Yeah, well, that's Sister Mary Frances. You know I'm a Gemini. I'm 2 different people. There's Sister Mary Frances and then there's Mama Funk, you know. It's like when I put the outfit on I'm Mama Funk but before that I'm Sweet Sister Mary Frances.
HGMN: Where's your favorite place to play?
JP: New Orleans and Colorado. New Orleans because of the culture, the music and the food. When you get done playing you can still go out afterwards at 2 or 3 am and see music until like 6 or 7 am. It's just banging. Colorado's the same way but different. Everyone's very cool there. They have great shows in Colorado.
Al Al: I would say Key West. It's like working and a vacation at the same time, you know. It's a good mix. We go twice a year.
Greg: It's called "Chorkin" - Chillin and workin'. This is a new term. I was talking to my brother the other day," What are you doing, man?" He's like," I'm chillin' and working." And I was like,"Huh?" Chorkin! (Laughter)
Mary: We should write a song about Chorkin!
HGMN:  What are your goals?
Mary: Well, are immediate goal is getting this album out. I think travelling to Europe is another big goal as well.
Al Al: Japan, New Zealand, Australia, and the Netherlands. All of that! It's been way too long since we had an album and people really enjoy "Now You Now." But "Doin' It Hard" is the best recorded work that we've done. We really can't wait for people to hear it. It's a warmer, clearer sound.
Mary: It's like feeling like you're at the show. And we're releasing a double vinyl coming up.
HGMN: Who helped record the album?
Mary: DJ Le Spam. He's from the City of Progress Studios in Miami. We did some over dubs at Echo Mountain and then me and Lee's studio, House of Groove Studio. It's been a process.
HGMN: You and Lee's studio?
Mary: We have a little house studio called House of Groove in Asheville. We teach lessons out of there and have smaller bands come in and record. We do all the rehearsals there. It's a bedroom and other than that there's like 25 keyboards in our house. This little girl came over and counted how many keyboards we have. 25. We are passionate about our quality of sound and I think it's really important. Carrying around a 1970's Leslie cabinet and a 1970's Fender Rose and a Moog little fatty which is a synthesizer. They are built out of Asheville. Lee and I are really particular about our tones and using vintage gear and mixing the old with the new. Keepin it real.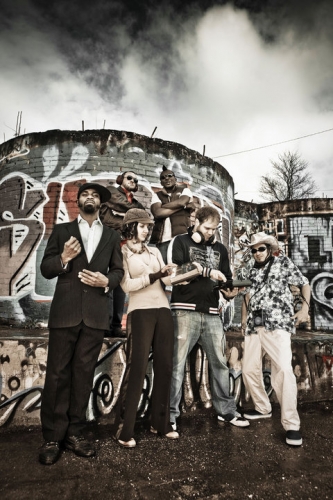 Tour Dates
DEC 30
Ziggy?s - 433 Baity Street, Winston Salem, NC
DEC 31
Asheville Music Hall - 31 Patton Ave, Asheville, NC
JAN 07
Vortex Marion NC - Maple Leaf Drive, Marion, NC
JAN 13
Southland Ballroom - 614 N West St, Raleigh, NC
JAN 20
The Charleston Pour House - 1977 Maybank Hwy, Charleston, SC
JAN 21
The Whiskey - 1 S Front St, Wilmington, NC
JAN 26
Exit/In - 2208 Elliston Pl, Nashville, TN
JAN 27
The Gramophone - 4243 Manchester Ave, Saint Louis, MO
JAN 28 Map It
Tres Hombres - N Washington St, Carbondale, IL
Discography
Doin' It Hard (?)