Posted by: Robie | September 30th, 2011
Interview by Maisie Leach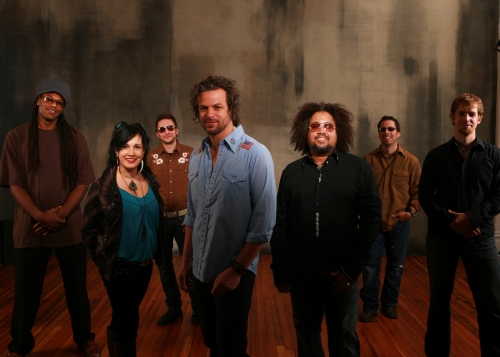 Rusted Root became a band twenty years ago. They're known for their fusion of bluegrass and rock as well as their inspired use of percussion that is drawn from African, Latin America, Native American and Middle Eastern influences and defies categorization.  Over the last several years they have sold more than 3 million albums worldwide and they have toured the world and the US with Toad the Wet Sprocket, Santana, The Grateful Dead, Dave Matthews Band, The Allman Brothers Band, HORDE Festival and, perhaps most notably, the highly coveted support role on the landmark Jimmy Page/Robert Plant reunion tour.
"Stereo Rodeo", their first disc in seven years, features original members Michael Glabicki (lead vocals, guitar), Liz Berlin (vocals, percussion), and Patrick Norman(vocals, bass, percussion). They are joined on this album by Jason Miller (drums, percussion), Colter Harper (guitar), Preach Freedom (percussion) and Dirk Miller(guitar).
Rusted Root hits Raleigh Amphitheater this Saturday, Oct 1st as part of the Bud Light City Fest. The doors will open at 5PM and the cost of admission is only $5!
Interview with Rusted Root's Michael Glabicki
After speaking with Michael, I learned much about the bands birth, evolution and journey. They have already accomplished their aspiration of creating a musical, culturally diverse community surrounding Rusted Root here in the U.S.. But their longevity and drive to keep going is leading to their next album which is expected to release in March 2012. Maybe the root is not so rusty.
HGMN: So, you are here in Raleigh?
Michael: Yeah, we are just here on a day off, then we go to Wilmington tomorrow and then we come back here and play on Saturday night.
HGMN: Excellent. Well, Raleigh is glad to have you here. How did you get the current lineup that you guys have and what was the beginning?
Michael: It started out with a very big idea. And, you know, we have evolved over time. Our evolution attracts people to the band...and we just kind of go with that flow. We just try to be true to what the band needs. We are all from Pittsburgh.
HGMN: Your music has a lot of multicultural ingredients as well. Where does that stem from?
Michael: I think I was personally exposed to a lot of different cultures, you know, growing up in Pittsburgh around the colleges. I was able to catch a couple African Drumming concerts here and there...not a lot of it but some. I never really studied it but I knew I wanted to use it in the songs that I was writing for the vision I had for the band. It's not really something that I went out seeking...it just happened.
HGMN: You've said you are looking to move in a direction similar to the Talking Heads...what do you mean by that?
Michael: I don't know what I meant by that actually (laughs). Other interviews have been saying that I said that. I'm like, "I don't know what that means." I think if anything it's just that our material is a little more groove oriented. In the past we have been very rhythmic but I think lately it's been very spastic and we've come in and out of grooves. I think on our new record you will see deeper grooves. I mean, "Little Creatures" by the Talking Heads kind of simplified what they were doing but they also kind of matured in the same way. I think we are moving like that too.
HGMN: Stereo Rodeo came out in 2009, what's your take on that looking back and what do you want to change on the next album?
Michael: For me I think Stereo Rodeo was mixing what I wanted to do solo on that album a little bit. I originally wasn't sure how I wanted to express these certain segments of myself and now I/we are trying to keep the Rusted Root thing more about the party and the more danceable vibe kind of stuff. Some of my acoustic songs that are kind of deep sometimes do fit best with Rusted Root. I'm not really sure why...I guess they just feel right in Rusted Root. 
My solo stuff, it's a different kind of songwriting, I can't really describe it. These two things are now very separate and distinct. Somehow, in the past two years I've had something click in my mind where I know what I want to do in each and there's no, kind of blur, you know? I'm not afraid to pull one song from the other if I think it works better in the other. I think that's big for this record. There's a lot of clarity in what we are doing now. And I think everybody understands it and is very clear and so we keep coming up with pure ideas. We are very focused and we move a lot quicker now. Also, we are producing ourselves. I am producing the record, we are recording it at my studio and there's a whole different process to that which I like. It's different and good because I think it's taking us out of the ways that we have made records before.
HGMN: How is that? Just more comfortable?
Michael: Yeah, exactly. And it has a different piece to it. We can reflect a lot easier on certain things but at the same time we aren't rushed, we have a lot more time and flexibility to create a spark. It's an experiment. We go in and we try until we get that chemistry going. That can be trying and then going across the street and playing pool for 4 hours, then coming and playing a song. It's just total freedom to try whatever we want. We can say, "okay we've got 6 hours to get this song down so let's go do it now." It's just a lot less rushed, it's cool.
HGMN: I'd like to dig in more to your solo endeavor, talk to me about that.
Michael: I'm doing a few different things. I'm doing an acoustic show with Harger and then we are bringing in one side man who plays drums, guitar, and percussion. Then I do a trio which is me, Preach and Colter from Rusted Root. These 3 projects cover the entire solo album. It's interesting, I can't do all of them all at once so I break them up in 3 different segments and then we get in the studio. But yeah, I'm doing with that and I think it's tough time wise so I have to give up something to do one other thing for a little while. For the next few months I'm mainly focused on Rusted Root and then I'll jump back into the solo thing for a little bit.
HGMN: Don't you wish you could have 2 lives all at once for time purposes? Sometimes I feel like there's too much I want to do.
Michael: (laughs) Right.
HGMN: If you didn't do music, what do you think that'd you'd be doing?
Michael: Umm, probably living under a bridge or something. Or I like a lot of things actually, I'm pretty good at construction, I can hang some mean dry wall. Maybe a plumber. I can see myself going back to school maybe finishing my degree.
HGMN: Did you go to college?
Michael: For half a semester maybe.
HGMN:  Where'd you go?
Michael: Um, Robert Morris college...no no wait (laughs) La Roche college in Pittsburgh. It's a small school and then I dropped out because I knew I wanted to play music. I think I'd written 2 songs at that point and dropped out and just started writing.
HGMN: What are you most proud of with Rusted Root?
Michael: Hmm, most proud of... I don't know, this may be like cockiness, you know? But I learned how confident we are and I think we can go on a stage next to anybody. And then there's a kind of warrior mentality. Does that make sense? Like we can go against anybody. We can stand our own. We toured with a lot of people, Robert Plant, Santana, Dave Matthews, Allman Brothers, Lenny Kravitz. All these bands, and we've held our own. And uh, it feels good, for us to be top of the game, you know? Gah, I sound like a football player. But there is that kind of feeling. I'm proud of our longevity. It just means we are growing something good.
HGMN: I know there's no standard day in the life of a musician and in the lives of bands. If you could put together some of your best memories from touring with the Dead and DMB etc. What memories would you piece together?
Michael: Probably the best was touring with Santana. He was just very gracious with us. I mean, the first day we started up on tour he invited us on stage. And we played 7 songs with him on his set. He would talk to me and give me advice every once in a while. I actually gained a couple guitar lessons. He would say, "Come on! Come in here and bring your guitar!" He thought I needed to know something he could teach. He was just a great guy all around. I remember Plant and Jimmy Page, that was quite an honor. We were basically little kids. I mean, it wasn't too long before that when I was riding my little BMX bike and going off on jumps listening to Led Zeppelin.
HGMN: How did you figure out that music was what you wanted to do?
Michael: I think I was just a closet guitarist for a little while, you know? But it was this extreme fantasy. I sat and dreamt about it. I think that was probably the most important part of the process. I would just be in my room a lot playing music and thinking about it. In high school I'd be in someones basement with a bunch of kids playing music. And as a joke I went up and sang Van Halen. And then at the end everyone was standing around going,  "Wow, that was pretty cool." In the back of my mind I was like maybe something is there in my voice. I think those 2 things were the beginning of a slow process on the guitar and kind of knowing I could maybe do the vocal thing. Then at 17 or 18 I just started writing music. For me, it was sort of what I wanted to create in the world. Not only in the music but with an idea of community and energy that didn't feel like it was in this country. We created an energy. 
As soon as I got out of high school I went to Nicaragua. I was very political at that point and wanted to change what was going on there with the contrawar. I wanted to witness it and come back to the states and tell people what was going on for real. And it didn't work. I kind of got really depressed because I couldn't do what I wanted to do. So there was that depression. Then I also learned that there was this whole world down there where people played music on the streets and there's poetry being spoken everyday, Jazz music every night. It was a really surreal environment of beauty. It inspired me to envision what I wanted to create here. And I think we did it. I think we created this community of high energy and good feeling.
HGMN: If you could say one positive thing about every member of your group what would you say?
Michael: Let's see. I would say Liz, her voice just stands on it's own. She has a unique way to look at song structure which has always been helpful for me. Preach is just pure musical. He can do just about anything. He's a natural. You can lean back on that guy and he's always there for you. Patrick just brings a good energy with the bass playing. He brings in excitement and good vibes. Dirk is great with the auxiliary stuff...mandolin, banjo which all fit well with the band. He's very supportive of everything that we do. He's just an all around necessary person. Colter brings a lot of ideas on guitar because he brings a lot of worldly influences like African and Brazilian and percussion ideas. Also, he's a funny dude who cracks jokes all the time so that's good.
HGMN: And what is everyone else involved in?
Michael: Liz has a venue in Pittsburgh called Mr. Smalls. She's doing real well there, she has a recording studio and there are a bunch of things she does there. Liz and Patrick both do solo work. Colter and Preach do shows together and write some stuff and do some recordings. Everybody keeps busy.
HGMN: Wrapping things up...You all are on tour until November. And then what are you doing? Back in the studio?
Michael: Yeah, we are going to go finish the record. We should be done with the record in late January for a March release. We will probably release the singles in late January. We are working on a DVD. There's a film director doing a documentary/creative Live footage kind of thing. He will get us in the studio with the new songs and everything. That will be out with the record in March. We are working on 6 or 7 new songs so that's always fun to see a crowds response to new material. We are doing fan funding now so if people want to help out with funding our record they can go to our facebook or website. It's called "Fortunate Freaks Unite" There's a bunch of packages that you can buy into, anything from a signed drum head to people can come to our sound checks and be filmed with us playing "Send me on my way" and then there's bigger packages which are us going to their house and putting on a concert. We have a lot going on right now.
HGMN: Are you going to get to discover Raleigh at all while you're here?
Michael: I'll probably just rest today mostly. We've played so many shows I feel like I just got hit by a truck. But yeah, I've always loved walking around Raleigh and the downtown area. My brother lives here now, so.
HGMN: Enjoy your time here! (cordial small talk exchange at end)
Upcoming Tourdates
Oct 01 - Raleigh Amphitheatre - Raleigh, NC
Oct 02 - Abbey Bar - Harrisburg, PA
Oct 10 - Taste of DC - Washington, DC
Oct 11 - Musica - Akron, OH
Oct 13 - Rustle Hill Winery - Cobden,IL
Oct 21 - Le Poisson Rouge - New York,NY
Oct 23 - Portland Fairgrounds - Portland, CT
Oct 28 - Gateway Clipper - Pittsburgh, PA
Nov 05 - Tupelo Music Hall - White River Junction, VT
Nov 06 - Tupelo Music Hall - Londonderry, NH
Nov 12 - Viper Alley - Lincolnshire, IL