Posted by: Robie | July 10th, 2012
Dark Water Rising appeared on NPR's The State of Things honoring fellow Lumbee musician Willie French Lowery. Willie French Lowery was a professional singer, songwriter and guitarist from Robeson County, North Carolina. He had performed with such artists as Floyd Westerman, Ulali, The Allman Brothers, and Clyde McPhatter, and has recorded with several musical groups including "Plant and See" and "Lumbee". He has published over 500 songs which have been recorded by numerous gospel, rock, country and R&B artists. Darkwater Rising performs "I Had My Fun...", "Let us meet where the rivers run cold" and "Hometown Hero". You can listen to the show here.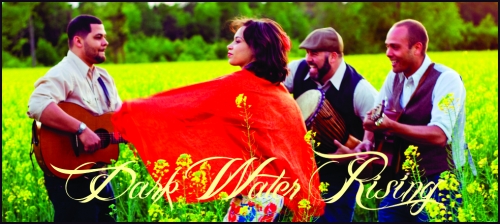 Dark Water Rising is led by Charly Lowry (lead singer/rhythm guitar - Semi Finalist on American Idol 2004), Aaron Locklear (keys/guitar/bass), Corey Locklear (lead guitar/cello/bass), and Shay Jones (drums).The band works to harness the sounds of Soul, Rock, Country, and R&B. Lyrically, Dark Water Rising explores all themes of life, whether it is love, heartbreak, sacrifice, celebration, despair, or pain; all the while expressing their sentiment on issues affecting Native American communities. Dark Water Rising's live shows are worth going to with large groups of people-preferably friends and family.  
Following the success of their self titled debut, DWR is currently making plans to record their upcoming sophomore album.  Dark water Rising will be performing with Yarn this Thursday at The Soapbox Lounge in Wilmington, North Carolina.
Upcoming Shows
07/12/12 - The Soapbox Lounge w/ Yarn - Wilmington, NC
07/13/12 - Kings w/ Clay Pigeons - Raleigh, NC
07/20/12 - Highrock Outfitters - Lexington, NC
07/26/12 - The Town Pump - Black Mountain, NC
07/27/12 - Bynum Front Porch Series - Bynum, NC
08/09/12 - Local 506 w/ A Mad Affair- Chapel Hill, NC
08/16/12 - The Milestone - Charlotte, NC
08/17/12 - Ten O One w/ The Heritage - Winston-Salem, NC
08/18/12 - The Soapbox Lounge w/ The Family - Wilmington, NC
08/31 - Highrock Outfitters - Lexington, NC
09/01/12 - Guardian Angel Jam -Mebane, NC (Early afternoon Set)
09/01/12 - Deep South - Raleigh, NC
09/28/12 - Highrock Outfitters w/ Lefty Williams- Lexington, NC
10/11/12 - The Station w/Sarah Shook and the Devil - Carrboro, NC
"A fan of strong, heartfelt lyrics will find much to chew on" 
- J. Evan Wade - Home Grown Music Network
"Native Americans who piece together Southern rock full of gospel harmonies, hip-hop inflections and Motown soul with a journeyman work ethic. With bold songwriting and bewitching arrangements, DWR breaks rules effortlessly"
 - Sylvia Pfeiffenberger - Indy Week 
http://www.darkwaterrising.net/
http://www.facebook.com/#!/DarkWaterRising
http://www.myspace.com/charlylowry
http://twitter.com/darkwaterrising
http://www.youtube.com/greenskyrecords