Posted by: Robie | April 12th, 2012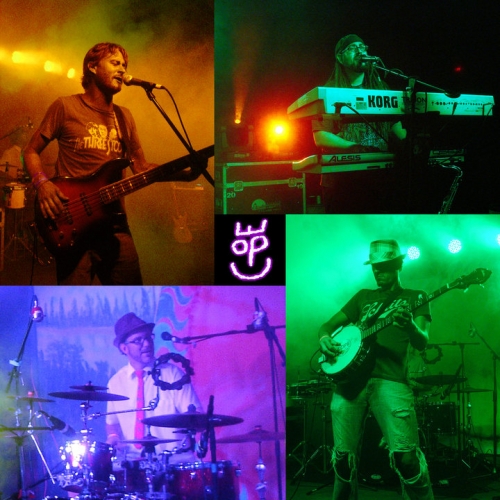 Kenny Stadelman| Bass Guitar, Vocals
Dennis Stadelman | Guitar, Banjo, Vocals
Juan Montero | Keyboards, Saxophone, Vocals
Dave Gerulat | Drums, Percussion, Vocals
COPE offers an array of audial influences that recall the pleasures of yesterday while hinting at the promises of tomorrow. Roots-rock passages blend seamlessly with bluegrass, funk, reggae and electronic breakdowns accented by soaring vocal harmonies that provide a smooth swagger, seducing audiences to the dance floor. Dennis Stadelman's aggressive runs on guitar and banjo intertwine with the complex flourishes of Juan Montero's scintillating saxophone and layered keys that vary from honkytonk to new skruncher. Kenny Stadelman lays down complex harmonies on bumping bass beats driven by Dave Gerulat's funky delirium powerhouse drumming, on one of the most sophisticated drum kits in the industry. COPE has humbly played with many great guest musicians, and at countless festivals including Bear Creek, Wanee, AURA, Blackwater, and Orange Blossom Jamboree. Most recently, COPE was invited to play in their home state of Ohio at Rootwire 2012. Their albums "Going Home" (2009) and "See" (2011) were both nominated for Home Grown Music Network's Album of the Year. The creative quartet offers a brilliant blend of melody and harmony balanced with tightly-arranged and well-composed numbers that demonstrate an appreciation for song craft...all while throwing the boogie down.
Get Your Own Copies of "See" & "Going Home"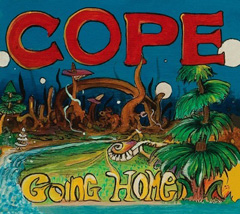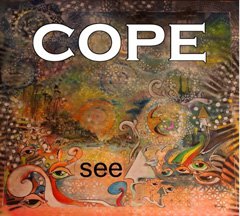 The seeds of COPE were first planted in Ohio as a family band featuring the brothers Stadelman and their cousin, guitarist Roger Pinkerton. Developing their core musical values over several years, the band relocated in the south in 2004 joining forces with drummer Dave Gerulat. Pinkerton departed, and COPE retooled with the advanced skillset of multi-instrumentalist Juan Montero, adding a dimension of sophistication. Dubbed the "Undisputed Jam Kings of Tampa Bay" by Skipper's Smokehouse's talent agent, the band ventures forward into its second decade primed and ready for exploration and discovery. Joining forces with Hoplite and Brotherly Love Productions in 2012 has elevated the already steady buzz that permeates this family vibe. With an army of devoted fans, COPE gives everyone something new to fall in love with!
Tour Dates
April 18 - Wanee Music Festival | Live Oak, FL
April 19 - Nowhere Bar | Athens, GA
April 21 - Ten o One | Winston Salem, NC
May 10 - West End Trading Company | Sanford, FL
May 11 - Ringside Cafe - St. Petersburg, FL
May 12 - Aces Lounge | Bradenton, FL
May 16 - Guanabanas | Jupiter, FL
May 19 - Orange Blossom Jamboree | Brooksville, FL
May 25 - Dunedin Brewery | Dunedin, FL
May 27 - 4th Annual Bands on the Sand | Treasure Island, FL
May 31 - Double Down Live| Gainesville, FL
June 8 - Ringside Cafe | St. Petersburg, FL
June 9 - Ringside Cafe | St. Petersburg, FL
June 15 - Outer Banks Brewing | Kill Devil Hills, NC
July 13 - Skipper's Smokehouse| Tampa, FL
Aug 11 - Bayou Bills | Valdosta, GA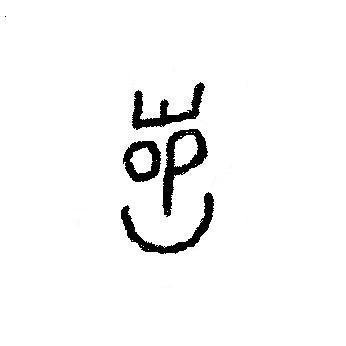 Media Contact:
Brotherly Love Productions | Destiny Spang
Destiny@BrotherlyLoveProductions.com | 215.704.95554
Booking Contact:
Hoplite Music | Chris Cate
Chris@HopliteMusic.com 310.827.3272