Posted by: leeway | September 4th, 2012
The critically-acclaimed
Charlie Wheeler Band
is known for its blend of brawny riffage, fluid and soulful bluesy lead guitar, and reflective, salt of the earth lyrics. With plum coverage in blues-rock's finest publications, and an impressive live-career resume, CWB is poised for a rapid-rising,  high-profile career. But guitarist-songwriter Charlie Wheeler has more humble aspirations. "The goal from day one has been just to share the music with people," says Wheeler. True to his word, Wheeler is treating fans to a
free digital download
of CWB's second release, the steamrolling,
Line 'Em Up!
.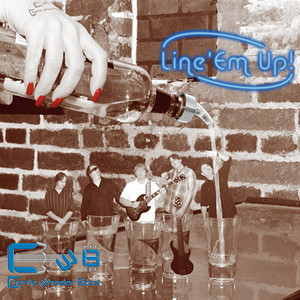 T
he quintet's sophomore album is an album-oriented album--in the most classic rock sense--of good old fashioned blues-based rock n' roll with imaginative arrangements, virtuoso musicianship, wooly riffs, and driving grooves. It's A Southern fried masterwork by a Ridgway, Pennsylvania powerhouse.
The Charlie Wheeler band has been favorably compared to the Allman Brothers, Kenny Wayne Sheppard, and Stevie Ray Vaughan. The esteemed music-first publication, Relix, chose CWB to be on one of its compilation samplers--a huge boost for an indie band, considering the mag's 360,000 subscriber reach, and that past artists on the comp have been Dave Matthews, The Black Crowes, Eric Clapton, Jerry Garcia, and Ben Harper. The CWB song "I Got to Ramble" was included in the Freak Films, Inc. release American Artifact, a film exploring the history and evolution of rock n' roll poster art. The quintet's debut, Highway Run, hit #21 on the Jambands.com radio chart, alongside the likes of Blues Traveler, Warren Haynes, Mike Gordon, and Buddy Guy. American Airlines Radio has been spinning tracks from Highway Run to its 4.5 million daily flyers. The bible of blues-based hard rock, Hittin' The Note, praised: "Wheeler's savage guitar and singer 'Greek' Cheronis' gutsy vocals." Rock-is-Life.com, which averages 100,000 visitors with each installment, reviewed CWB thusly: "Highway Run is chock-full of hard rocking blues guitar and soulful and passionate vocals. I was shocked at how accomplished a band that I never heard of was."
The Charlie Wheeler Band is Greek Cheronis, lead vocals, harmonicas; Charlie Wheeler guitars, backing vocals; Anthony Brown, keyboards, backing vocals; Andy Baker, bass, backing vocals; and Rad Akers, drums, backing vocals. Charlie Wheeler writes the band's music and the lyrics. His compositions deftly fuse the cathartic musicality of blues heroes such as Albert King, Stevie Ray Vaughan, Jimmy Herring, Warren Haynes, and Kenny Wayne Sheppard with the clever wordplay and heartfelt introspection of writers like Bob Dylan and Grateful Dead lyricist Robert Hunter.
CWB came together in 2007 when Wheeler decided to go into the studio and "make a proper recording." He enlisted the talents of engineer/producer/arranger/keyboardist Anthony Brown. Brown was so impressed with the music that he signed on as Wheeler's keyboardist/arranger/producer, and helped assemble some of the region's finest musicians to form the band. CWB plays with nuanced dynamics, as an ensemble sensitive to space, power, and precision that can flawlessly navigate Anthony Brown's adventurous arrangements.
The burly "Line 'Em Up!" and "I'll Drive" showcase the expressive fluidity of Wheeler's guitar playing and the ruggedly honeyed pipes of vocalist/harmonica player Greek Cheronis. The expansive, mid-tempo "Why O' Why" features some finely crafted stinging political commentary. Here Wheeler's lyrics are both poetic and biting, he writes: "He Rode In On A Horse/Like A Knight In Scarlet Colors/And He Stood Up In The Square/And The People Gathered Around/He said In God's Name/I Won't Treat You Like The Others/The People Had No Idea/What Kinda Deal Was Goin' Down." Wheeler reveals: "That was a political tune written during Bush era. Many societies go through what that story tells: A leader comes in with a smile on his face, promising to make changes. Society becomes enamored with him, and then he turns out be exactly what he said he wouldn't be."
The elegantly elegiac "When The Eagle Flies" is a touching tribute to Wheeler's deceased father in law with emotively melodic Dickie Betts-style guitar solos.  The rockabilly guitar tour de force, "Sallie Mae," recalls classic signature pieces like Jeff Beck's "Beck's Bolero" and Satriani's "Satch's Boogie"--those transcendent moments where a master musician hot rods a cherished early rock n' roll style.
The album was produced by Charlie Wheeler and keyboardist/engineer Anthony Brown at Graphite Studios in Warren, Pennsylvania. "If it were up to me, we would be a three piece band with a crappy singer like me," Wheeler says chuckling.  "Anthony brings organization, professionalism, refinement, and real depth to the songs."
Besides the sharply crafted songs, pristine-but-vibey production, Charlie Wheeler's nimble, bluesy solos and intricate-but-earthy riffs frame a musician who's logged a lot of hours perfecting his craft. Wheeler picked up the guitar in college, and within the first 24 hours of playing, could strum competent rhythm guitar. He thrust his all into his music, and eventually practiced himself out of the University Of New Hampshire.  Wheeler later got married and started a family, but always maintained his passion for guitar. "I'm a practice hound, a living room hero," he says laughing heartily. Wheeler recorded that first CWB band album for spiritual purposes, with no grand scheme other than to capture the music in his head and give it to others to enjoy.
Nationally and internationally CWB has racked up spins on respected classic rock radio stations such as Williamsburg/Virginia Beach, VA's WRRW-FM; San Francisco, California's KSFS; Syracuse, NY's WAER-FM; Houston, Texas's KPFT- FM; and Brisbane, Australia Honky Tonk Blues's 101.1 FM, among many others. CWB has gigged all over the Northeast and Midwest, at legendary venues and festivals with such notable acts as the Edgar Winter Group, Jefferson Starship, The Gin Blossoms, Devon Allman, and Ekoostik Hookah.
"Playing BB Kings at Times Square was a big thing for a Western Pennsylvania rural guy. And playing these festivals, meeting famous people..." Wheeler says, trailing off, reflecting on the band's five-year run. It's been almost a surprise career for a man who just wanted a well-produced recording of his music to give to his fellow blues enthusiasts. "For me, the whole thing is not about monetary gain. I'd rather giveaway 10,000 copies of the record then have 1,000 purchased. The goal is to share the music with the people."