Posted by: Robie | October 15th, 2012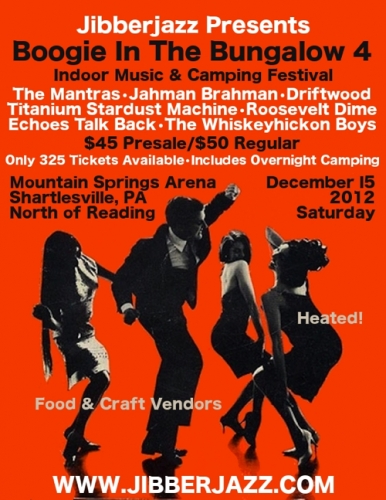 Jibberjazz Presents:
BOOGIE IN THE BUNGALOW 4
"The World's 4th INDOOR Music & Camping Festival" Saturday, December 15, 2012
Mountain Springs Arena
Shartlesville, PA (20 miles NW of Reading)
7 Bands * Heated INDOOR Camping * Food & Craft Vending
$45 Presale / $50 Regular
Only 325 tickets available!
FEATURING:
THE MANTRAS
JAHMAN BRAHMAN
DRIFTWOOD
TITANIUM STARDUST MACHINE
ROOSEVELT DIME
ECHOES TALK BACK
THE WHISKEYHICKON BOYS
Tickets include a full night of music and indoor camping. Only 325 tickets available!
DIRECT TICKET LINK:
jibberjazz.inticketing.com
FESTIVAL WEBSITE:
VENUE ADDRESS:
3450 Mountain Road, Hamburg, PA 19526
FESTIVAL INFORMATION:
BOOGIE IN THE BUNGALOW returns this Winter for a 4th annual indoor music & camping extravaganza. The festival--which has sold out three years running--provides a much needed musical interlude to the fierce Pennsylvania winters. Limited tickets along with increasing demand combine to make this event a true Jibberjazz holiday spectacle. Do not delay in purchasing tickets or risk being "left out in the cold."
Festival takes place in one giant indoor rodeo arena, complete with dirt floors to enhance the camping experience. Venue will be heated & electrified. (Electric available to vendors only) Main stage will be centrally located with indoor campsites scattered all throughout the building. Additionally, a limited amount of food and craft vendors will contribute to the festival atmosphere.
Gates open at 12PM, Saturday, December 15. Music begins at 2PM and continues throughout the night.
Festival is BYOB for those of age, but NO GLASS BOTTLES WHATSOEVER. Limited Vending & RV spaces available.
FESTIVAL THEME: Theme for this festival is: "Mardi Gras meets the Immoral Circus!" Costumes encouraged. Work it out.
CAMPING INFORMATION:
Patrons may bring an air mattress, set up a SMALL tent, or even build their very own bungalow. What's the alternative? STAY UP ALL NIGHT. Camping space for this event is on a first-come/first-serve basis and due to the indoor nature of the event...space is limited. No large tents allowed! Be sure so arrive early to get a choice spot. There will be room for EVERYONE to sleep, but if you want to set up a camp...always best to arrive early. Full bathroom facility just outside building. Venue must be cleared by 11AM Sunday morning.
CONTACT INFO:
Email: jibberjazz@hotmail.com for information on Vending, RV's etc etc.
DIRECT TICKET LINK:
jibberjazz.inticketing.com
FESTIVAL WEBSITE: