Posted by: leeway | May 9th, 2012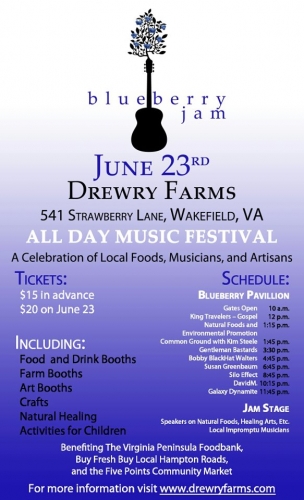 In its first year, the single day Blueberry Jam Music Festival is slated to be held on a blueberry farm (Drewry Farms), in rural Sussex County, Virginia. Located between Richmond and Hampton Roads, this is a family-friendly celebration of diverse cultures, featuring local and organic foods and crafts from around the area, with enough music to keep everyone's feet moving from lunch on Saturday until well after midnight. Drewry Farms is easily accessible to visitors from two major metropolitan areas in eastern Virginia, as well as the interstate system for those who choose to travel from afar.  
This is entirely a charity event. In an effort to aid area non-profit organizations, 100% of the proceeds of alcohol sales, 100% of the profits on ticket sales, food donations, all raffle sales, and 10% of vendor sales will benefit Buy Fresh Buy Local of Hampton Roads, The Virginia Peninsula Foodbank, and Five Points Community Market.
The main-stage music acts are sure to be the major draw. Pulling from a range of regional musicians of various genres, the day will include bluegrass (Common Ground with Kim Steele), blues (Bobby "Blackhat" Walters), rock and roll (Gentlemen Bastards), acoustic-folk (Susan Greenbaum), and the late night electronic/psychedelic/jam treats of Silo Effect (members of the HGMN family) and Galaxy Dynamite.
Along with the main-stage acts, the festival will showcase a second stage for speakers on natural foods and healing arts, a yoga presentation, and impromptu music sets. There will be a petting zoo for children (Mini farm animals), craft making, face painting, artisan vendors, and plenty of food/crafts/beer vendors to keep everyone's eyes and stomachs happy.
Camping is optional for a fee of $5. Event tickets can be purchased at the gate ($20), or for a $5 early bird discount at -
http://www.drewryfarms.com/music-festival.html